Billy Summers: a NEW NOVEL by Stephen King!
Author:

Stephen King

Pub. Date:

August 2021

ISBN:

9781982173616

Status:

Forthcoming
$0.00
---
---
Billy Summers
by Stephen King
A Brand New Novel About A Killer For Hire!
Publisher: Scribner (Simon & Schuster)
Format: Trade Hardcover
Price: $30
Please Note: If you order the book AND the slipcase together via this page, your book will ship first when this title is published, and then the slipcase will ship separately when it is completed. That means you can start reading the book right away!
About the Book:
Billy Summers concerns a killer for hire who is the best in the business, but he'll do the job only if the target is a truly bad guy. And now Billy wants out. But first, there is one last hit...
Billy is among the best snipers in the world, a decorated Iraq war vet, a Houdini when it comes to vanishing after the job is done. So what could possibly go wrong? How about everything.
Part war story, part love letter to small town America and the people who live there, Billy Summers features one of the most compelling and surprising duos in Stephen King fiction, who set out to avenge the crimes of an extraordinarily evil man. It's about love, luck, fate, and a complex hero with one last shot at redemption.
Add A Special Exclusive Slipcase To Your Order To Protect Your Book!
Even though this book is being published by another publisher, we will be producing one of our popular custom-made slipcase for this title like we have for the last few Stephen King books!
The easiest way to add a slipcase to your purchase is by selecting the "Trade Hardcover with Custom Slipcase!" option above — you'll also save on shipping by ordering this way! (You can order just the slipcase by itself on the Billy Summers custom slipcase product page.)
Don't know what a slipcase is? That's okay! You can see some sample images of other slipcases we've made below. We're using the same high-quality materials we have used for our previous Stephen King cases, with one color hot foil stamping. The company who makes these for us is the best in the business and you won't find a better way to protect your investment! (If you are new to collecting, you can read more about slipcases on our Book FAQ page.)

We're selling these special slipcases for just $29.95, making them an extremely affordable way to protect your book. These cases will be produced after the book is published because we need a real copy of the book to get the sizing just right. We think our collectors will be very pleased with what we have in mind for these very special cases, so don't wait to place your order!
Sample Slipcase Photo: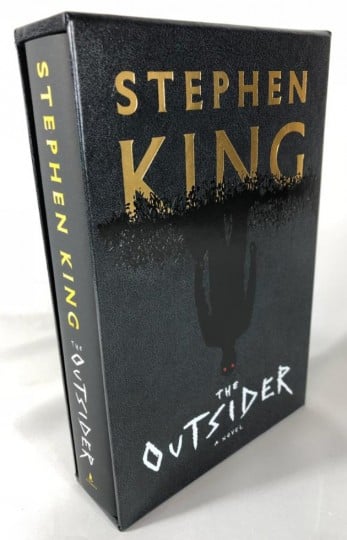 Please Note: As always, we try to get 1st printings from the publisher, but we're not guaranteed them, so we cannot guarantee that's what we'll have to ship.