Fairy Tale: a NEW NOVEL by Stephen King!
Pub. Date:

Sept. 6th 2022

Status:

Forthcoming
$0.00
---
---
Fairy Tale
by Stephen King
An Epic Tale of the Ages by Our Most Legendary Storyteller!
Publisher: Scribner (Simon & Schuster)
Format: Trade Hardcover
Price: $32.50
Please Note: If you order the book AND the slipcase together via this page, your book will ship first when this title is published, and then the slipcase will ship separately when it is completed. That means you can start reading the book right away!
About the Book:

Legendary storyteller Stephen King goes deep into the well of his imagination in this spellbinding novel about a seventeen-year-old boy who inherits the keys to a parallel world where good and evil are at war, and the stakes could not be higher—for their world or ours.

Charlie Reade looks like a regular high school kid, great at baseball and football, a decent student. But he carries a heavy load. His mom was killed in a hit-and-run accident when he was ten, and grief drove his dad to drink. Charlie learned how to take care of himself—and his dad. Then, when Charlie is 17, he meets a dog named Radar and his aging master, Howard Bowditch, a recluse in a big house at the top of a big hill, with a locked shed in the backyard. Sometimes strange sounds emerge from it.

Charlie starts doing jobs for Mr. Bowditch and loses his heart to Radar. Then, when Bowditch dies, he leaves Charlie a cassette tape telling a story no one would believe. What Bowditch knows, and has kept secret all his long life, is that inside the shed is a portal to another world.

King's storytelling in Fairy Tale soars. This is a magnificent and terrifying tale about another world than ours, in which good is pitted against overwhelming evil, and a heroic boy – and his dog – must lead the battle.

Early in the Pandemic, King asked himself: "What could you write that would make you happy?"

"As if my imagination had been waiting for the question to be asked, I saw a vast deserted city—deserted but alive. I saw the empty streets, the haunted buildings, a gargoyle head lying overturned in the street. I saw smashed statues (of what I didn't know, but I eventually found out). I saw a huge, sprawling palace with glass towers so high their tips pierced the clouds. I saw a magic sundial that could turn back time. Those images released the story I wanted to tell."
Add A Special Exclusive Slipcase To Your Order To Protect Your Book!
Even though this book is being published by another publisher, we will be producing one of our popular custom-made slipcase for this title like we have for the last few Stephen King books!
The easiest way to add a slipcase to your purchase is by selecting the "Trade Hardcover with Custom Slipcase!" option above — you'll also save on shipping by ordering this way! (You can order just the slipcase by itself on the Fairy Tale custom slipcase product page.)
Don't know what a slipcase is? That's okay! You can see some sample images of other slipcases we've made below. We're using the same high-quality materials we have used for our previous Stephen King cases, with one color hot foil stamping. The company who makes these for us is the best in the business and you won't find a better way to protect your investment! (If you are new to collecting, you can read more about slipcases on our Book FAQ page.)

We're selling these special slipcases for just $30, making them an extremely affordable way to protect your book. These cases will be produced after the book is published because we need a real copy of the book to get the sizing just right. We think our collectors will be very pleased with what we have in mind for these very special cases, so don't wait to place your order!
Sample Slipcase Photo: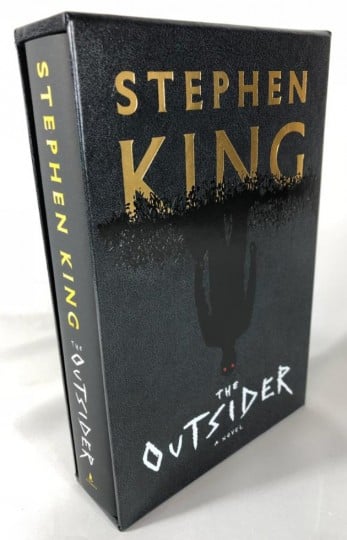 Please Note: As always, we try to get 1st printings from the publisher, but we're not guaranteed them, so we cannot guarantee that's what we'll have to ship.