Full Throttle by Joe Hill
Author:

Joe Hill

Page Count:

500 pages

Pub. Date:

October 2019

Status:

Forthcoming
$0.00
---
---
Full Throttle
by Joe Hill
"A book that mines our tormented secrets, hidden vulnerabilities, and basest fears, and demonstrates Joe Hill at his very best."
Publisher: William Morrow
Format: Trade Hardcover
About the Book:
In this masterful collection of short fiction, Joe Hill dissects timeless human struggles in thirteen relentless tales of supernatural suspense, including "In The Tall Grass," one of two stories co-written with Stephen King, basis for the terrifying feature film from Netflix.
A little door that opens to a world of fairy tale wonders becomes the blood-drenched stomping ground for a gang of hunters in "Faun."
A grief-stricken librarian climbs behind the wheel of an antique Bookmobile to deliver fresh reads to the dead in "Late Returns."
In "By the Silver Water of Lake Champlain," two young friends stumble on the corpse of a plesiosaur at the water's edge, a discovery that forces them to confront the inescapable truth of their own mortality . . . and other horrors that lurk in the water's shivery depths.
And tension shimmers in the sweltering heat of the Nevada desert as a faceless trucker finds himself caught in a sinister dance with a tribe of motorcycle outlaws in "Throttle," co-written with Stephen King.
Featuring two previously unpublished stories, and a brace of shocking chillers, Full Throttle is a darkly imagined odyssey through the complexities of the human psyche. Hypnotic and disquieting, it mines our tormented secrets, hidden vulnerabilities, and basest fears, and demonstrates this exceptional talent at his very best.
Add A Special Exclusive Slipcase
to Your Order to Protect Your Book!
Even though this book is being published by another publisher, we will be producing one of our popular custom-made slipcase for this title!
The easiest way to add a slipcase to your purchase is by selecting the "Trade Hardcover with Custom Slipcase!" option above — you'll also save on shipping by ordering this way! (You can order just the slipcase by itself on the Full Throttle custom slipcase product page.)
Don't know what a slipcase is? That's okay! You can see some sample images of other slipcases we've made below. We're using the same high-quality materials we have used for our previous aftermarket cases, with color hot foil stamping. The company who makes these for us is the best in the business and you won't find a better way to protect your investment! (If you are new to collecting, you can read more about slipcases on our Book FAQ page.)

We're selling these special slipcases for just $24.95, making them an extremely affordable way to protect your book. These cases will be produced after the book is published because we need a real copy of the book to get the sizing just right. We think our collectors will be very pleased with what we have in mind for these very special cases, so don't wait to place your order!
Sample Slipcase Photo: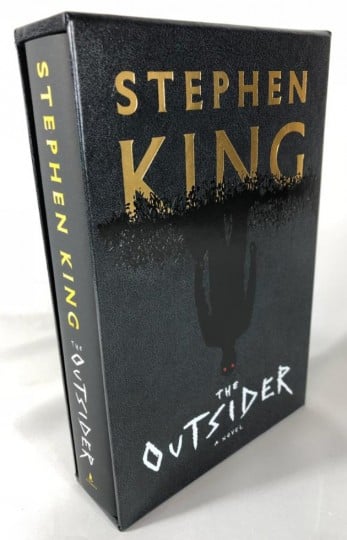 Please Note: As always, we try to get 1st printings from the publisher, but we're not guaranteed them, so we cannot guarantee that's what we'll have to ship. Sorry!