Holly: A New Novel by Stephen King!
Artist:

Stephen King

Pub. Date:

September 2023

Status:

Forthcoming
$0.00
---
---
Holly
by Stephen King
A Brand New Novel Coming This Year!
Publisher: Scribner (Simon & Schuster)
Format: Trade Hardcover
Price: $30
Please Note: If you order the book AND the slipcase together via this page, your book will ship first when this title is published, and then the slipcase will ship separately when it is completed. That means you can start reading the book right away!
About the Book:
Holly Gibney, one of Stephen King's most compelling and ingeniously resourceful characters, returns in this thrilling novel to solve the gruesome truth behind multiple disappearances in a midwestern town.
"Sometimes the universe throws you a rope." -- BILL HODGES
Stephen King's Holly marks the triumphant return of beloved King character Holly Gibney. Readers have witnessed Holly's gradual transformation from a shy (but also brave and ethical) recluse in Mr. Mercedes to Bill Hodges's partner in Finders Keepers to a full-fledged, smart, and occasionally tough private detective in The Outsider. In King's new novel, Holly is on her own, and up against a pair of unimaginably depraved and brilliantly disguised adversaries.
When Penny Dahl calls the Finders Keepers detective agency hoping for help locating her missing daughter, Holly is reluctant to accept the case. Her partner, Pete, has Covid. Her (very complicated) mother has just died. And Holly is meant to be on leave. But something in Penny Dahl's desperate voice makes it impossible for Holly to turn her down.
Mere blocks from where Bonnie Dahl disappeared live Professors Rodney and Emily Harris. They are the picture of bourgeois respectability: married octogenarians, devoted to each other, and semi-retired lifelong academics. But they are harboring an unholy secret in their well-kept, book-lined home, one that may be related to Bonnie's disappearance. And it will prove nearly impossible to discover what they are up to: they are savvy, they are patient, and they are ruthless.
Holly must summon all her formidable talents to outthink and outmaneuver the shockingly twisted professors in this chilling new masterwork from Stephen King.
"I could never let Holly Gibney go. She was supposed to be a walk-on character in Mr. Mercedes and she just kind of stole the book and stole my heart. Holly is all her." -- STEPHEN KING
Add A Special Exclusive Slipcase To Your Order To Protect Your Book!
Even though this book is being published by another publisher, we will be producing one of our popular custom-made slipcase for this title like we have for the last few Stephen King books!
The easiest way to add a slipcase to your purchase is by selecting the "Trade Hardcover with Custom Slipcase!" option above — you'll also save on shipping by ordering this way! (You can order just the slipcase by itself on the Holly custom slipcase product page.)
Don't know what a slipcase is? That's okay! You can see some sample images of other slipcases we've made below. We're using the same high-quality materials we have used for our previous Stephen King cases, with one color hot foil stamping. The company who makes these for us is the best in the business and you won't find a better way to protect your investment! (If you are new to collecting, you can read more about slipcases on our Book FAQ page.)

We're selling these special slipcases for just $32.50, making them an extremely affordable way to protect your book. These cases will be produced after the book is published because we need a real copy of the book to get the sizing just right. We think our collectors will be very pleased with what we have in mind for these very special cases, so don't wait to place your order!
Sample Slipcase Photo: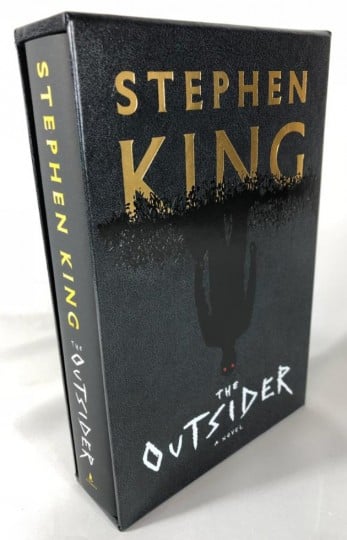 Please Note: As always, we try to get 1st printings from the publisher, but we're not guaranteed them, so we cannot guarantee that's what we'll have to ship.