If It Bleeds: A New Book by Stephen King!
Author:

Stephen King

Page Count:

576

Pub. Date:

May 2020

Status:

Forthcoming
$0.00
---
---
If It Bleeds
by Stephen King
A Brand New Collection of Original Novellas!
Publisher: Scribner (Simon & Schuster)
Format: Trade Hardcover
Price: $30
Please Note: If you order the book AND the slipcase together via this page, your book will ship first when this title is published, and then the slipcase will ship separately 12 to 14 weeks later when it is completed. That means you can start reading the book right away!
About the Book:
From #1 New York Times bestselling author, legendary storyteller, and master of short fiction Stephen King comes an extraordinary collection of four new and compelling novellas—Mr. Harrigan's Phone, The Life of Chuck, Rat, and the title story If It Bleeds—each pulling readers into intriguing and frightening places. 

The novella is a form King has returned to over and over again in the course of his amazing career, and many have been made into iconic films, including "The Body" (Stand By Me) and "Rita Hayworth and Shawshank Redemption" (Shawshank Redemption). Like Four Past Midnight, Different Seasons, and most recently Full Dark, No Stars, If It Bleeds is a uniquely satisfying collection of longer short fiction by an incomparably gifted writer.
Add A Special Exclusive Slipcase To Your Order To Protect Your Book!
Even though this book is being published by another publisher, we will be producing one of our popular custom-made slipcase for this title like we have for the last few Stephen King books!
The easiest way to add a slipcase to your purchase is by selecting the "Trade Hardcover with Custom Slipcase!" option above — you'll also save on shipping by ordering this way! (You can order just the slipcase by itself on the If It Bleeds custom slipcase product page.)
Don't know what a slipcase is? That's okay! You can see some sample images of other slipcases we've made below. We're using the same high-quality materials we have used for our previous Stephen King cases, with one color hot foil stamping. The company who makes these for us is the best in the business and you won't find a better way to protect your investment! (If you are new to collecting, you can read more about slipcases on our Book FAQ page.)

We're selling these special slipcases for just $29.95, making them an extremely affordable way to protect your book. These cases will be produced after the book is published because we need a real copy of the book to get the sizing just right. We think our collectors will be very pleased with what we have in mind for these very special cases, so don't wait to place your order!
Sample Slipcase Photo: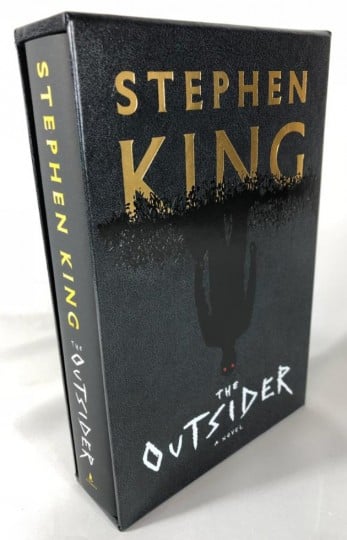 Please Note: As always, we try to get 1st printings from the publisher, but we're not guaranteed them, so we cannot guarantee that's what we'll have to ship.