Cast in Dark Waters
Author:

Ed Gorman & Tom Piccirilli

Artist:

Keith Minnion

Page Count:

100

Pub. Date:

2002

ISBN:

1-58767-013-5

Status:

Out of Print
$0.00
---
---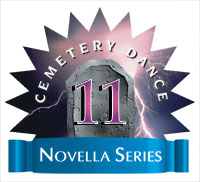 Cast in Dark Waters (Cemetery Dance Novella Series #11)
by Ed Gorman and Tom Piccirilli
About the Book:
Her name was Crimson... and she was a legend. A beautiful pirate queen who plundered the 16th Century Caribbean sea by day and confronted voodoo and vampires during the steaming tropical nights.
Cast in Dark Waters is an original dark adventure tale by Ed Gorman and Tom Piccirilli — a fine addition to the Cemetery Dance Novella Series.
Ed Gorman has been an astonishingly prolific writer since he turned full-time in 1984 after 20 years in advertising. Since then he has produced two to three books a year, several pseudonymously, written over a hundred short stories, edited many anthologies, and co-founded and edited the news magazine of the Mystery field, Mystery Scene. He has written in practically every genre imaginable, from suspense and mysteries to science fiction and horror. If that weren't enough, he is also a frequent editor, often collaborating with his long-time friend, award-winning anthologist Martin H. Greenberg. His work has appeared in magazines as various as Redbook, Ellery Queen, The Magazine of Fantasy and Science Fiction, and Poetry Today. He is also the founder, along with Robert J. Randisi, of Mystery Scene magazine.
Tom Piccirilli has sold over 150 stories in the mystery, thriller, horror, erotica, and science fiction fields and has won many awards in those same fields.
Published in two states:
• Hardcover Limited Edition of 750 signed and numbered copies bound in full-cloth and Smyth sewn ($30)
• Traycased Hardcover Lettered Edition of 26 signed and lettered copies bound in leather and Smyth sewn with a satin ribbon page marker ($125)