Cemetery Dance Graveyard Editions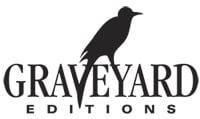 Cemetery Dance Graveyard Editions are designed for collectors who value craftsmanship and want beautiful books for their collection without breaking the bank. We've taken everything we've learned from publishing some of our very expensive high-end special editions over the last few years and investigated ways to replicate that look and feel on a much leaner budget, allowing us to price these books very competitively with our regular Limited Editions. We've cut no corners, but we're using some tricks of the trade (such as planning ten books at a time, so we can order materials in bulk to get the best deal we can) to make these volumes both affordable and gorgeous.
These books will be bound in a special material we've previously only used for our STEPHEN KING Gift Editions, and the binding will feature colored head and tail bands, full-color marbled endpapers, a sewn-in ribbon page marker, and intricate hot foil stamped designs on the covers. These books will be printed on 60# acid-free paper and the binding will be Smyth sewn to ensure longevity. Each volume will be limited to a ONE TIME printing of just 500 numbered copies, each hand-signed by the author, and we will never offer a second printing for these special editions.
We expect the Cemetery Dance Graveyard Editions to be a huge hit with collectors, and these books will be an impressive addition to any collection for many years to come.