Catching Hell
Author:

Greg F. Gifune

Artist:

Jill Bauman

Page Count:

128

Pub. Date:

May 17, 2010

ISBN:

978-1-58767-191-3

Status:

Out of Print
$0.00
---
---
ABOUT
REVIEWS
AUTHOR
EDITIONS
STATUS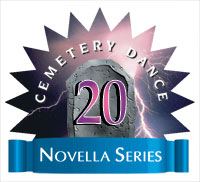 Catching Hell (Cemetery Dance Novella Series #20)
by Greg F. Gifune
About the Book:
Summer, 1983.
As fall approaches and the summer stock theaters on Cape Cod close for the season, three promising young actors and a stagehand pile into an old Ford Fairlane and head for a vacation resort in Maine. Hoping for a relaxing getaway before pursuing their dreams in New York City or going on to college, they instead encounter a bizarre storm while on a lonely stretch of state highway and soon find themselves stranded in the strange rural community of Boxer Hills.
At first glance it seems a harmless little backwoods town, but Boxer Hills has a horrible secret and a deadly history. It's a place of horrific age-old rituals and a legendary evil that will let no one escape without paying a terrible price.
Before the sun rises on a new day, they will have to fight their way through the night and out of town, or risk falling prey to an endless cycle of depravity and violence at the hands of a demonic creature so profane few will even speak its name.
They were young, reckless and chasing hell.
What they hadn't counted on was actually catching it.
"
Gifune's stunning novella has the precision, creepiness, and breathless pace of a classic horror movie.. This is taut and gripping old-school horror that startles and unnerves up to the very end. While the bones of Gifune's tale are familiar, his subtle characterizations, attention to historical detail, and sympathy with the restless, reckless mindset of his 20-something characters will draw in and engage even jaded readers."
— Publishers Weekly (starred review)
"Deliver(s) a solid dose of adrenaline and a couple of intense gross-out moments. It definitely put me off of hamburgers for the Memorial Day weekend, and perhaps for the rest of the summer... If you're searching for a quick summer read that delivers some chills, Catching Hell could be just the thing."
— Green Man Review
"Gifune's prose is the real attraction here; vivid in language and specificity, neat and tight, offering very concrete images with just the right words. He instills a chilling mood and ambiance also, making this the perfect read for a warm summer day...but perhaps when safe at home and not out wandering lonely country roads on a summer vacation."
— Kevin Lucia, Shroud Magazine
Called "One of the best writers of his generation" by both the Roswell Literary Review and author Brian Keene, Greg F. Gifune is the author of numerous short stories, several novels and two short story collections. His work has been published in a wide range of magazines and anthologies all over the world. His novels include The Bleeding Season, Deep Night, Saying Uncle, A View From the Lake, Night Work, Drago Descending, Dominion, and Blood in Electric Blue. Along with his short story collections, Down to Sleep and Heretics, his work has been consistently praised by readers and critics alike across the globe. In addition to working as a full-time author, he also serves as Associate Editor at Delirium Books. An avid film buff, reader, and animal rights advocate, Greg resides in Massachusetts with his wife Carol and a bevy of very cool cats.
• Hardcover Limited Edition of 750 signed and numbered copies bound in full-cloth and Smyth sewn ($30)
• Traycased Hardcover Lettered Edition of 26 signed and lettered copies bound in leather and Smyth sewn with a satin ribbon page marker ($175)
Limited Edition is Sold Out / Out of Print!
The deluxe Lettered Edition of this book is currently with our traycase manufacturer who will begin building the traycases as he catches up on the projects we've sent him. We will update this page as the Lettered Edition progresses through production. Thank you for your patience.