Cheeseboy
Author:

Graham Masterton

Artist:

Chris Bankston

Pub. Date:

February 20, 2018

ISBN:

978-1-58767-564-5

Status:

Out of Print
$0.00
---
---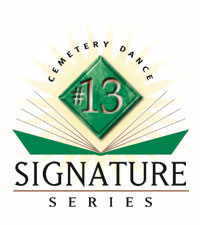 Cheeseboy (Cemetery Dance Signature Series #13)
by Graham Masterton
Artwork by Chris Bankston
About the Book:
For Aidan, every school day begins with the taunts of Michael O'Reilly and his gang:
"Ah, look, here he comes now! Stick your clothespegs on your noses, everybody! Hold your breath until he's gone past! What's the story, Cheeseboy? How many years is it now since you last saw a bar of soap? As if you'd even know what a bar of soap looks like!"
Aidan walked past his tormentors with his head down. He looked the other way. He had learned from his first term at St Jerome's not to answer back—not even to acknowledge that he had heard them.
He endured the taunting. It was the only way. Or was it?
Published as a Signed Limited Edition Hardcover:
• Limited to just 550 signed and numbered copies
• Personally signed by the author and artist on a full-color signature page
• Printed on 60# acid-free paper
• Bound in full-cloth with colored head and tail bands
• Featuring hot foil stamping on the front boards and spine
• Printed and bound with full-color endpapers
• Smyth sewn to create a more durable binding
• Wrapped in a full-color dust jacket
• Limited ONE TIME printing of this special edition
Graham Masterton's debut as a horror author began with The Manitou in 1976, a chilling tale of a Native American medicine man reborn in the present day to exact his revenge on the white man. It became an instant bestseller and was filmed with Tony Curtis, Susan Strasberg, Burgess Meredith, Michael Ansara, Stella Stevens and Ann Sothern.
Since then Masterton has published more than 35 horror novels, including Charnel House, which was awarded a Special Edgar by Mystery Writers of America; Mirror, which was awarded a Silver Medal by West Coast Review of Books; and Family Portrait, an update of Oscar Wilde's tale, The Picture of Dorian Gray, which was the only non-French winner of the prestigious Prix Julia Verlanger in France.
Masterton lives in Surrey, England, where is hard at work on new short stories and novels.