Cold River
Author:

Rick Hautala

Artist:

Glenn Chadbourne

Page Count:

107

Pub. Date:

2003

ISBN:

1-58767-073-9

Status:

Out of Print
$0.00
---
---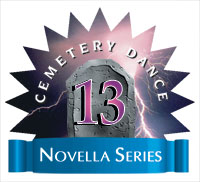 Cold River (Cemetery Dance Novella Series #13)
by Rick Hautala
About the Book:
The lucky number thirteenth entry in Cemetery Dance's novella series — a brand new novella written exclusively for the series by Rick Hautala!
After the death of his wife, Ben Skillings is a man on the edge. Haunted by grief and unable to sleep, he spends most of his nights sitting on a park bench on the river's edge. But there are things that happen late at night in the town of Northbrook, Maine... Things that come out of the river after dark... Things that no living person should see. And when Ben sees them — even if he can't be sure whether or not they're real — they're certainly real enough to come after him. They're real enough to want to make him become one of them and join them as they prowl the night.
Rick Hautala, writing under his own name and the pseudonym A. J. Matthews, is the acclaimed international best-selling author of more than thirty books, including the million copy best seller Nightstone and Untcigahunk: The Complete Stories and Tales of the Little Brothers, and more than fifty short stories in such anthologies as 999 and magazines such as Cemetery Dance. His most recent books include the short story collection Occasional Demons and Follow (by A. J. Matthews). In the spring of 2007, Berkley Books will publish another A. J. Matthews novel, Unbroken. Hautala lives in southern Maine with author Holly Newstein and Keira the Wonder Dog.
Published in two states:
• Hardcover Limited Edition of 750 signed and numbered copies bound in full-cloth and Smyth sewn ($30)
• Traycased Hardcover Lettered Edition of 26 signed and lettered copies bound in leather and Smyth sewn with a satin ribbon page marker ($125)