Dark Debts (Cemetery Dance Gold Seal #1)
Author:

Karen Hall

Page Count:

400

Pub. Date:

Forthcoming

ISBN:

978-1-58767-572-0

Status:

Out of Print
$0.00
---
---
Book #1 from the Cemetery Dance Gold Seal imprint, personally selected and introduced by Stephen King!
"I loved this book!" — Stephen King
Dark Debts
by Karen Hall
About the Book:
In Dark Debts, Karen Hall masterfully combines southern gothic, romantic comedy, and mystery in a wildly original theological thriller that has become a cult favorite since being published twenty years ago. In this new anniversary edition, the author has reimagined her work. The result is a suspenseful, irreverent, and deeply spiritual novel that captivates from the very beginning and doesn't let go.
When Randa, a reporter for an alternative newspaper in Los Angeles, receives an urgent phone call from her estranged lover, Cam, she rushes to his apartment. She arrives to discover that he's leapt from the building to his death. Police believe that before committing suicide, Cam also murdered someone in a convenience store, but Randa does not believe Cam is capable of such an act. She seeks out Cam's brother, Jack, who is living off the grid, somewhere near Atlanta, in hope of figuring out what really happened.
Meanwhile, a Jesuit priest named Michael Kinney has been exiled from New York City to the boondocks of Georgia after making controversial public statements. He has said things that educated people of faith are not supposed to express. Even more problematically, he has fallen in love with a woman, and the last surviving member of his family has kept a shocking family secret from him.
How these characters converge is part of the thrilling mystery of Dark Debts, a cult favorite first published twenty years ago. In this new edition, author Karen Hall has re-imaged her southern gothic tale and the result is a work of even greater power—a brilliantly realized and suspenseful evocation of the conflict between good and evil.
Published as a Hardcover Limited Edition:
• Limited to just 750 signed and numbered copies
• Personally signed by Karen Hall on a unique signature page
• Printed on 60# acid-free paper
• Bound in full-cloth with colored head and tail bands
• Featuring hot foil stamping on the front boards and spine
• Printed and bound with full-color endpapers
• Smyth sewn to create a more durable binding
• Wrapped in a full-color dust jacket
• Limited ONE TIME printing of this special edition
• Retail price just $50!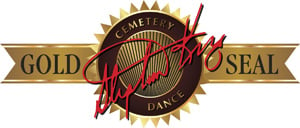 The Cemetery Dance Gold Seal imprint is an exciting new line of books personally selected and introduced by Stephen King! These books will be published as Limited Edition hardcovers and there may even be some trade editions and eBooks depending on the title.

We're pleased to announce the subversive classic Dark Debts by Karen Hall as the debut title of the Cemetery Dance Gold Seal imprint, and Stephen King has written a terrific original introduction about his first selection for the line.

Cemetery Dance founder Richard Chizmar and Stephen King have discussed creating an imprint like this for years, but our new Six Scary Stories anthology (featuring stories selected and introduced by King) really pushed the idea into overdrive this summer.

Every book published under the Cemetery Dance Gold Seal imprint will be personally chosen and introduced by Stephen King, so be sure to look for more information at CemeteryDance.com and watch for future titles!
In her career as writer, producer and creative consultant, Karen Hall has worked on numerous series, including M*A*S*H, Hill Street Blues, Moonlighting, Roseanne, and Grace Under Fire. She has received seven Emmy Award nominations, as well as the Humanitas Prize, the Women in Film Luminas Award, and the Writers Guild of America Award. Her novel, Dark Debts, was a Book of the Month Club main selection when first published in 1996 and has been translated into French, German, and Japanese. She and her husband own Black Bear Books, an independent bookstore in Boone, North Carolina.