Dog Days o' Summer
Author:

James Newman and Mark Allan Gunnells

Artist:

Tony Karnes

Page Count:

154

Pub. Date:

April 20, 2018

ISBN:

978-1-58767-534-8

Status:

Out of Print
$0.00
---
---
Dog Days o' Summer (Cemetery Dance Novella Series #27)
by James Newman and Mark Allan Gunnells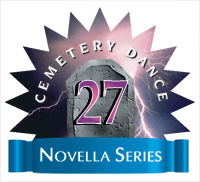 Artwork by Tony Karnes
About the Book:
I had just turned fourteen years old the night my best friends and I decided to kill Mr. Martinsen.
He was my friend. My mentor. I would even go so far as to say I loved him, as I looked up to Mr. Martinsen the same way I had looked up to my maternal grandfather, who died from a heart attack when I was ten.

He was the best teacher I ever had. I will never forget him, or the knowledge he imparted to me, as long as I live.
But on that summer evening just several weeks before I began my freshman year of high school, he gave my friends and me no choice. Things had gone too far. We had put it off for too long.
We knew Mr. Martinsen had to die.
Published as a Signed Hardcover Limited Edition:
• Limited to just 750 signed and numbered copies
• Personally signed by the authors on a unique signature page
• Printed on 60# acid-free paper
• Bound in full-cloth with colored head and tail bands
• Featuring hot foil stamping on the front boards and spine
• Printed and bound with full-color endpapers
• Smyth sewn to create a more durable binding
• Wrapped in a full-color dust jacket
• Limited ONE TIME printing of this special edition
• Retail price just $30!
James Newman lives in the mountains of North Carolina with his wife and their two sons. His published works include the novels Midnight Rain, The Wicked, Animosity, and Ugly As Sin, the short story collection People Are Strange, and the critically acclaimed novella Odd Man Out. Still Waters, a Christian-themed horror film based on Newman's original screenplay, is currently available from Tacky Tie Films. Next up is Scapegoat, a novel co-written with Adam Howe.
Mark Allan Gunnells loves to tell stories. He has since he was a kid, penning one-page tales that were Twilight Zone knockoffs. He likes to think he has gotten a little better since then. He loves reader feedback, and above all he loves telling stories. He lives in Greer, SC, with his husband Craig A. Metcalf.