Dueling Minds
Editor:

Brian James Freeman

Artist:

Alan M. Clark and Erin S. Wells

Page Count:

152

Pub. Date:

April 2013

ISBN:

978-1-58767-227-9

Status:

Out of Print
$0.00
---
---
ABOUT
REVIEWS
TOC
EDITIONS
INTRO
ARTWORK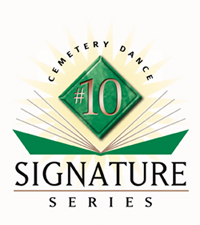 Dueling Minds (Cemetery Dance Signature Series #10)
edited by Brian James Freeman
featuring stories by Brian Keene, Gary A. Braunbeck, Tom Piccirilli, Tim Lebbon, Jenny Orosel, and Gerard Houarner!
Cover artwork by Alan M. Clark
Interior artwork by Erin S. Wells
About the Book:
Where do you get your ideas?
It's probably the most common question an author gets asked during his or her career.
This anthology isn't meant to answer that question, but it is designed to give readers a glimpse into how the imagination works.
These talented authors were shown a haunting piece of artwork by acclaimed artist Alan M. Clark and then asked: "What worlds do you see hidden inside this painting?"
The stories collected in this book are their answers.
"A unique concept beautifully realized, Dueling Minds combines the talents of dark fiction's strongest voices in weaving a varied, diverse tapestry born from a single, haunting image. From Brian Keene comes a harrowing, suspenseful tale of horror exploding on a quiet summer morning. Tom Piccirilli lends his unique noir voice to the mix, in a story both moving and disturbing. Tim Lebbon's surreal dark vision explores a world existing only in the clouds, while Jenny Orosel and Gerard Houarner use the same image to tell stories of unrequited, undying love and a fateful, destined homecoming. Finely crafted and beautifully illustrated by Erin S. Wells, hopefully this is only the first in an intriguing conceptual series."
— Shroud Magazine, Kevin Lucia
"With Dueling Minds, however, editor Brian James Freeman has hit on a concept that gives readers a real opportunity to draw comparisons between different writers... Freeman has given six authors a piece of Alan M. Clark artwork (the same artwork which serves as the book's cover) and asked them to write a story inspired by it. Under the unusual circumstances of having a group of writers get their ideas from the same inspiration, we're able to get a glimpse of how unique they truly are."
— FEARnet.com, Blu Gilliand
"Dueling Minds does exactly what it set out to do: show how, given a single piece of artwork, each author approached will come up with a different interpretation of what is going on in that artwork and be inspired to write vastly differing tales from one author to the next. This anthology makes for an interesting study and one that I thoroughly enjoyed - especially when I came up with my own idea as to what the balloon was and what intentions lay beneath its flight. Dueling Minds is a great addition to the Cemetery Dance Publications Signature Series. I would recommend it to any fan of the written word, especially aspiring writers out there who might want to try their own hand at interpreting Alan M. Clark's artwork."
— G-POP.net, Melissa Minners
"Dueling Minds is something rather special... The result is six stories, each quite different. Each amazing in their own way... Each and every one is a unique experience, and should be savored. The stories defy genre and are perfect capsules of creative expression... One can only hope that this becomes an ongoing series as the concept, while not new, is handled perfectly by Cemetery Dance and Brian Freeman. I really can't recommend this book highly enough."
— The Crow's Caw
Table of Contents:
"Introduction" by Brian James Freeman
"Purple Reign" by Brian Keene
"Bargain" by Gary A. Braunbeck
"Between the Dark and the Daylight" by Tom Piccirilli
"Falling Off the World" by Tim Lebbon
"That Which Binds" by Jenny Orosel
"Breath of Bygone Spirits" by Gerard Houarner
Published in two states:
• Hardcover Limited Edition of 550 signed (by all of the contributors) and numbered copies bound in full-cloth and Smyth sewn with illustrated endpapers ($35)
• Traycased Hardcover Lettered Edition of 26 signed (by all of the contributors) and lettered copies bound in leather and Smyth sewn with illustrated endpapers and a satin ribbon page marker ($175)
Editor's Note
This anthology is a print version of what I experimented with on my webzine, DuelingMinds.com, while in college way back at the turn of the century. For those who never had a chance to stop by the website, each issue of the webzine had four or five stories that were all inspired by the same piece of artwork, giving readers the chance to discover how different authors interpreted (and were inspired by) the exact same image.
In 2003, a small press publisher approached me and suggested a Dueling Minds anthology would work for his newly founded company. I agreed and quickly went to work searching for a cover artist. Normally choosing the cover art is one of the last parts of the creative side of putting together a book, but obviously in this case I needed the cover before I ever approached the authors since it was to be the inspiration for everything that followed.
Alan M. Clark was the first artist I spoke with and he was quite agreeable to the concept. He had also edited an anthology where authors wrote stories based on individual pieces of his artwork, so he quite easily recognized how much fun this sort of project could be. We looked through his portfolio and settled on one of my favorite pieces, which was originally inspired by a Ray Bradbury story.
Once I had the cover artwork, I contacted a handful of my favorite authors to see if they might be interested in contributing to this project. These authors took the challenge and ran with it, turning in their amazing stories over the next couple of months. I was already a big fan of their writing before this project, and the results of their efforts here just reinforced for me how truly creative these authors are.
In an unfortunate turn of fate, though, the original publisher closed up shop, leaving the book without a home for many years. Fast forward to 2011 when Richard Chizmar and I were kicking around ideas for new and creative titles for the acclaimed Cemetery Dance Signature Series, which features small books from the genre's best authors that are heavily illustrated by the most talented artists working in the business today.
Cemetery Dance had never offered a mini-anthology in the Signature Series, but the series seemed like the perfect place to experiment with this sort of unusual publication.
The artist and authors were contacted, all immediately agreed that it sounded like a fine idea, and—in an odd turn of fate—all of these years later, we hired Erin Wells to create the interior artwork for the book since the Signature Series requires more interior illustrations than almost anything else Cemetery Dance publishes. So she created interior images inspired by stories that were inspired by Alan's cover painting... which was originally inspired by a Ray Bradbury story.
Funny how things work out sometimes.
— Brian James Freeman
These are just a few samples of the many drawings that appear in this book: