Homestead
Author:

James A. Moore

Artist:

Alex McVey

Pub. Date:

April 2013

ISBN:

978-1-58767-230-9

Status:

Out of Print
$0.00
---
---
ABOUT
REVIEWS
AUTHOR
EDITIONS
ARTWORK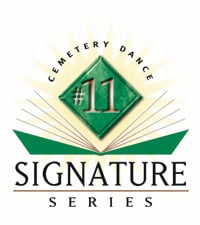 Homestead (Cemetery Dance Signature Series #11)
by James A. Moore
featuring artwork by Alex McVey
About the Book:
Home is where the pain is….

Kathy Erinson just wanted a hobby, something to help her relax and keep her from getting too bored.
What she didn't expect was that the illustrations she started working on would try to tell her secrets best ignored.


What she didn't expect was the sudden wash of memories about people and things she'd done her very best to forget about: Her first kiss, her best friend, her family and the dark, dark things that were done once to protect family and homestead alike.

Something from the past has come back and that something is very unforgiving.
"James A. Moore has written a tale that makes the reader shiver... This is another winner from Moore and another terrific story from his horror filled trunk of tales."
–– Barry Hunter, Baryon Magazine
"Homestead is a creepy, eerie portrait about a woman haunted by the past. Kathy Erinson has done her best to move on with life, be a good mother and loving wife, and she's done that...but something horrible and damning lies buried within her memory, and even as her subconscious dregs the past in the light, kicking and screaming, as she searches for the truth, she's tormented by the feat that even when the truth is revealed, the nightmare won't end..."
— Shroud Magazine
James A. Moore is the award winning author of over twenty novels, thrillers, dark fantasy and horror alike, including the critically acclaimed Fireworks, Under the Overtree, Blood Red, the Serenity Falls trilogy (featuring his recurring anti-hero, Jonathan Crowley) and his most recent novels, Cherry Hill and Smile No More. He has also recently ventured into the realm of Young Adult novels, with his new series Subject Seven. In addition to writing multiple short stories, he has also edited, with Christopher Golden and Tim Lebbon, British Invasion for Cemetery Dance Publications.
The author cut his teeth in the industry writing for Marvel Comics and authoring over twenty role-playing supplements for White Wolf Games, including Berlin by Night, Land of 1,000,000 Dreams and The Get of Fenris tribe book for Vampire: The Masquerade and Werewolf: The Apocalypse, among others. He also penned the White Wolf novels Vampire: House of Secrets and Werewolf: Hellstorm.
Moore's first short story collection, Slices, sold out before ever seeing print. He recently finished his latest novels, Blind Shadows and Run: A Subject Seven Novel. He is currently at work on several additional projects.
Published in two states:
• Hardcover Limited Edition of 550 signed and numbered copies bound in full-cloth and Smyth sewn with illustrated endpapers ($35)
• Traycased Hardcover Lettered Edition of 26 signed and lettered copies bound in leather and Smyth sewn with illustrated endpapers and a satin ribbon page marker ($175)
These are just a few samples of the many drawings that appear in this book: