Invisible Fences
Author:

Norman Prentiss

Artist:

Steve Gilberts (cover) and Keith Minnion (interiors)

Page Count:

166

Pub. Date:

May 17, 2010

ISBN:

978-1-58767-184-5

Status:

In-Stock
$0.00
---
---
ABOUT
REVIEWS
AUTHOR
EDITIONS
STATUS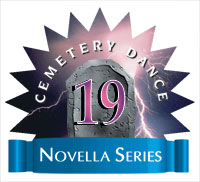 Invisible Fences (Cemetery Dance Novella Series #19)
by Norman Prentiss

About the Book:
Do you see the point of the story, Nathan? We all cut parts of ourselves away, but we never lose them. Things stay with us—souvenirs with memories attached. We can't always choose what to keep, what to throw away.
Nathan's parents devised cautionary tales for him and his sister—gruesome stories about predatory cars racing along the "Big Street" at one end of their neighborhood, or dope fiends lurking in the woods behind their house and ready to plunge hypodermics into the skin of foolish young trespassers. These stories served their purpose during Nathan's gullible childhood, essentially constructing an invisible fence around the yard and keeping the boy close to home where he'd be safe.
Such barriers are not so easy to discard in later life. As an adult, Nathan no longer believes his parents' stories, and yet they still confine him. He lives cautiously, avoiding serious relationships, avoiding risk. But despite his efforts, something from his parents' cautionary tales threatens to creep beneath that invisible border…and the enclosed yard might not be as safe and secure as it always seemed…
"Cemetery Dance's short novel program yields another gem with this sobering story about the imaginary barriers of fear we place around our life circumstances as we grow up… Carefully crafted prose… a lucid reflection on life's inevitable burden of fear and fractured memory."
— Booklist
"Prentiss writes with an assured voice, weaving a tale of building disquiet. . . Invisible Fences is dark and atmospheric, a quick read that lingers long after the final sentence is read. It marks another excellent entry in the Cemetery Dance library, and an impressive debut for its author."
— Blu Gilliand, Dark Scribe Magazine
"This is a chilling tale as Norman Prentiss provides a profound look at the child inside the adult whose fear is palpable while the audience wonders if it is externally real or internal psychosomatically real."
— The Baryon Review

"Prentiss handles a story that could have been melodramatic or slight and instead infuses it with a quiet dignity and an admirable style. If you're missing the work of the late Charles E. Grant, you'll find what you're looking for here."
— Richard Dansky, Green Man Review
"Norman Prentiss' debut is a haunting tale of reminiscence and regret, of how things thought laid to rest long ago still lurk at the bottom of our souls. His prose is smooth, nearly flawless, and his narrative voice invokes a Gothic, literary tone. Best of all, the chills lie solidly in the strength and substance of the story, rather than something tacked on in pastiche at the end... The chills are there, but they are subtle, part of the characters and their existence, rather than an affected trope. This is the mark of a writer who will enjoy a long, successful career and critical acclaim."
— Kevin Lucia, Shroud Magazine
"Beautiful, creepy, and haunting. A dark literary gem from an exciting new voice in the horror field."
— Douglas Clegg, New York Times bestselling author
"Invisible Fences is an elegant, elegiac story about life and death and all points in between. And after. The everyday detail is the stuff of fine novels and the imagery real poetry. A moving and troubling piece of work that you won't easily forget."
— Ed Gorman
"Norman Prentiss writes with subtle power. He resonates well with the quiet horror of Charles L. Grant, and the nostalgic terror of Bradbury."
— Thomas F. Monteleone, bestselling author of The Blood of the Lamb and The Eyes of the Virgin
"Beautifully composed and rich in symbolism, Invisible Fences leaves the reader considering the boundaries—safe and not so safe—that we impose upon ourselves ... and on others. Prentiss's story will be talked about for years."
— Tim Lebbon, New York Times bestselling author
"I read Invisible Fences in one sitting while waiting for a power outage to end: I had a flashlight parked on my shoulder and when, a few hours later, I was finished reading, the flashlight was all but dead, the power outage was still underway, and I was smiling. Norman Prentiss's first book is wonderfully engaging, beautifully written, refreshingly surprising and completely unputdownable. If you were once a child, if you have secrets you've never told anyone (perhaps even yourself), or, hell, even if you don't have such truly secret secrets, and if you value writing that's crisp and confident and, often, brilliant, you will also be pulled into Invisible Fences—power outage or not."
— T.M. Wright, author of A Manhattan Ghost Story and The Eyes of the Carp
"With Invisible Fences, Norman Prentiss has created a poignant, heartbreaking and deeply unsettling story about the most terrifying ghost of them all: memory. It's a startlingly effective and intelligently written novella that forces us to look at the many ways in which we favor self-deception as a means of avoiding the ugly truth about ourselves, and also perfectly illustrates the sad and inevitable divide that time opens between children and adults. A wonderful piece of work from an immensely talented author."
— Kealan Patrick Burke, Bram Stoker Award-winning author of Currency of Souls, Midlisters, and The Turtle Boy
"Eerie, haunting, tragic, poignant—Invisible Fences is all of this and more. Simply put, Norman Prentiss has written one of the best novellas I've read in a long, long time. A fantastic debut."
— James Newman, author of Midnight Rain, The Wicked, and Animosity
"Invisible Fences is as disturbing, heart-felt, and gut-wrenching a novella as I have ever encountered. Norman Prentiss will put you through the wringer with this one, and—trust me—you will be grateful for it. A superb accomplishment."
— Gary A. Braunbeck, author of Coffin County and Far Dark Fields
"Norman Prentiss is a multi-faceted writer and Invisible Fences is a multi-faceted work of fiction. Part nostalgic coming of age saga, part ghost story, part psychological puzzle, part metaphorical fantasy. Add it up to 100% originality and sheer reading entertainment... I sincerely believe that it will be one of the most talked about—and critically praised—books in the horror field. "
— Mark Sieber, horrordrive-in.com
Bram Stoker Award Winner Norman Prentiss lives in Baltimore, Maryland, and works as a high school English teacher and part-time editor. His fiction has appeared in Tales from the Gorezone, Damned Nation, Postscripts, the Shivers anthology series, and at the Horror Drive-In website. His poetry has appeared in Writer Online, Southern Poetry Review, and Baltimore's City Paper. Invisible Fences is his first published book.
Published in two states:
• Hardcover Limited Edition of 750 signed and numbered copies bound in full-cloth and Smyth sewn ($30)
• Traycased Hardcover Lettered Edition of 26 signed and lettered copies bound in leather and Smyth sewn with a satin ribbon page marker ($175)
Lettered Edition Status:
The deluxe Lettered Edition of this book is currently with our traycase manufacturer who will begin building the traycases as he catches up on the projects we've sent him. We will update this page as the Lettered Edition progresses through production. Thank you for your patience.