Lynch
Author:

Nancy A. Collins

Artist:

Stephen R. Bissette

Page Count:

129

Pub. Date:

1998

ISBN:

1-881475-51-4

Status:

Out of Print
$0.00
---
---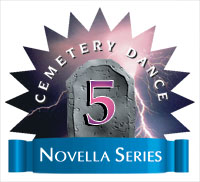 Lynch (Cemetery Dance Novella Series #5)
by Nancy A. Collins
About the Book:
For years Johnny Pearl has tried to escape the demons of the Civil War by living the life of a hired gun. With his killer's cool and trademark pearl-handled pistol, he has made his name as a gunslinger — but now he finds his fame hollow, his life meaningless. Johnny Pearl is weary of the desperado life, of the emptiness that comes from a rootless existence based in death and destruction.
But just as it looks as if he will become the final notch on his own gun, Johnny Pearl finds redemption in the smile of Katie Small Dove. Katie understands his pain and loneliness, and heals his broken soul, giving him the strength to turn his back on the path of the gun and build a new future for himself. Within a year he has a new wife, a homestead, and a baby on the way, and for the first time in his adult life Johnny Pearl knows true peace.
Of course, it cannot last.
Johnny Pearl's idyllic world is shattered by the sudden arrival of Captain Antioch Drake, a psychotic cavalry officer intent on avenging the recent massacre at Little Big Horn. Within minutes Johnny Pearl's home is ablaze, his wife and unborn child cruelly slain, and he himself left swinging from the branch of a cottonwood tree. Normally, this would be the end of Johnny Pearl's story. However, not long after the troopers leave, a strange little medicine wagon, driven by a strange little man arrives at the scene of the crime. And as odd as the gnarled old man who calls himself Dr. Mirablis may appear, it is nothing compared to his traveling companions — especially the scarred and twisted piece-meal giant known as Sasquatch.
The life and times of Johnny Pearl are over....
But the life and times of Lynch are just beginning...
Published in two states:
• Hardcover Limited Edition of 450 signed and numbered copies bound in full-cloth and Smyth sewn ($30)
• Traycased Hardcover Lettered Edition of 26 signed and lettered copies bound in leather and Smyth sewn with a satin ribbon page marker ($125)