Media Contact
We're always happy to discuss the publishing business, the horror genre, and our upcoming projects with members of the media.
As one of the leading independent publishers of horror and suspense for more than twenty years, Cemetery Dance Publications has been mentioned in The New York Times, USA Today, Entertainment Weekly, Variety, Publishers Weekly, Library Journal, Kirkus, Booklist Time, GQ, Fangoria, PerezHilton.com, The Washington Post, LA Times, The Miami Herald, The Boston Herald, The Independent (UK), The Guardian (UK), Reuters, The Associated Press, Variety, and many other publications. and numerous local, regional, and web-based publications.
Our authors include Stephen King, Dean Koontz, Ray Bradbury, Clive Barker, Peter Straub, William Peter Blatty, Justin Cronin, David Morrell, F. Paul Wilson, Joe R. Lansdale, Jack Ketchum, Edward Lee, Graham Masterton, Richard Laymon, Rick Hautala, William F. Nolan, Richard Matheson, Douglas Clegg, Michael Slade, Ray Garton, Norman Partridge, Thomas Tessier, Ed Gorman, Frank Darabont, Mick Garris, and hundreds of others.
If you have questions for the staff of Cemetery Dance, or if you'd like more information about our company or products for an article, please contact our office.
And, if you mention Cemetery Dance, or a Cemetery Dance product, in an article or review, please let us know. Thanks!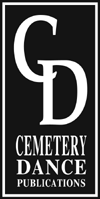 Logos
For the Web
Here is a low resolution version of our logo that is suitable for web-based articles.
For Print
Please contact our office for a high resolution version for print articles.