Mystery Road
Author:

Kevin Lucia

Artist:

Ben Baldwin

Page Count:

100

Pub. Date:

March 24, 2020

ISBN:

978-1-58767-595-9

Status:

Out of Print
$0.00
---
---
Mystery Road (Cemetery Dance Novella Series #28)
by Kevin Lucia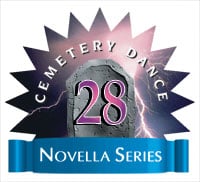 Cover Artwork by Ben Baldwin
Interior Artwork by Ben Baldwin
About the Book:
Choices are like roads, taking us to destinations both planned and unexpected, but lofty thoughts like that are of no concern to young Kevin Ellison, who only cares about his dreams of basketball glory.

One day, however, while riding his bicycle to shoot baskets with his best friend, he comes across a side-road he doesn't recognize, curving away into the woods.

Intrigued, he rides down this unmarked road and encounters something both wonderful and quietly terrible, something that forever changes his understanding of the world...
Published as a Hardcover Limited Edition:
• Limited to just 750 signed and numbered copies
• Personally signed by the author on a unique signature page
• Printed on 60# acid-free paper
• Bound in full-cloth with colored head and tail bands
• Featuring hot foil stamping on the front boards and spine
• Printed and bound with full-color endpapers
• Smyth sewn to create a more durable binding
• Wrapped in a full-color dust jacket
• Limited ONE TIME printing of this special edition
• Retail price just $30!
Kevin Lucia is the Reviews Editor for Cemetery Dance magazine and his column Revelations featured on Cemetery Dance Online. His short fiction has appeared in several anthologies, most recently with Neil Gaiman, Clive Barker, Bentley Little, Peter Straub, and Robert McCammon. His first short story collection, Things Slip Through, was published in November 2013, followed by Devourer of Souls in June 2014, Through A Mirror, Darkly, June 2015, and his second short story collection, Things You Need, in September 2018