Last updated January 9, 2019
A general note about our production schedule: our queue for the printer is seriously backed up from losing one of our two big printers back in June. They went out of business with no warning and they had three of our books rolling at the time, so it was a huge mess to A) get everything back from them and B) get those books which had been announced as rolling at the printer switched to being printed by our other main printer while we searched for a new printer that would be a good fit for our size print runs, which are uncommon in the publishing business because they're tiny compared to what New York publishers print. We're trying a new printer right now, so if all goes well with the two projects we've sent them to get the ball rolling, we hope to see a lot of production catch-up in the first half of 2019. Thank you very much for all of your patience and support!
Lonely Road Books updates appear on their website's News page.
---
Trade and Limited Editions:
The Best of Cemetery Dance 2 edited by Richard Chizmar:
Proofreading is essentially done for this title, although we'll send it out for a 10th pass next month just out of paranoia. The authors who are available to sign are still in the process of signing the signature sheets and shipping them (via pre-paid label) to the next person on the list, but we have really high hopes that this process will be completed by the first half of 2019, which would allow us time to finally publish this long awaited mammoth volume (760 pages!) in 2019.
The Best of Shivers edited by Richard Chizmar:
Proofreading has been completed for this title, but as we always do when there is some time to spare, we'll be sending it out one or two more times for more proofreading, just to be safe. There are FIVE more authors who need to sign the signature sheets and then this one will be ready for the printer!
Caretakers by Tabitha King:
This book is completely designed, proofread, and ready for the printer as soon as the author has time to sign the signature sheets.
Cardinal Black by Robert McCammon:
In our excitement to publish this incredible novel as fast as we could, we picked the earliest publication date that was feasible if everything went according to plan after we received the manuscript back in August, and unfortunately our printer has informed us they cannot meet the ship date we requested due to the continuing backlog of work on their main press. We apologize for this delay. We were a little too excited about publishing this one, and we should have planned on a later date to begin with, but the good news is the printer does have all of the materials for the book and they are firmly committed to getting us the trade hardcover in early April. We're setting the new publication date for April 30, 2019 and we thank you again for all of your continuing support.
The City of Mirrors by Justin Cronin:
Everything has been put together for this special edition, and the author has returned the signed signature sheets, so we'll be scheduling this project for 2019.

Dark Debts by Karen Hall:
Work has started on this title, but we are still waiting on the introduction, so we're unable to estimate the publication date at this time. We will post an update as soon as we know more. You can now see the final cover artwork on the product page.
Dark Screams edited by Richard Chizmar and Brian James Freeman:
This book is proofread and ready for the printer, although we'll do another round or two of proofreading to be safe while we wait for the signature sheets to be signed.
End of the Road by Brian Keene:
This book is completely ready for the printer, and so is the bonus chapbook, and we will send both of them to the printer around the end of 2018.
Four Shadows (Cemetery Dance Exclusive Collectors Set #3):
The third book for the Cemetery Dance Collectors Set #3 has been changed because the author for the book we wanted to use hasn't been able to finish the manuscript, and we want to keep the set moving. Luckily, we had another book coming along on our list that was meant to be used in some kind of deal or promotion (we hadn't decided what yet) and we were able to slide it over to be the 3rd book in this set. The new book includes four novellas by five terrific authors (one of the novellas is a collaboration) and all of the authors are signing the signature sheets. We're hoping it'll be far enough along that we can publicly unveil it in January, but we will see!

Four Halloweens 2
This book is completely ready for the printer, with the exception of the signature sheets, which are being signed as we speak.
Flight or Fright edited by Stephen King and Bev Vincent (ARTIST EDITION)
We can now share some production news on the Gift Edition and Lettered Edition for the collectors who selected those editions, which will see print next year for reasons that will become apparent with this update: We're upgrading the book's design to TWO COLOR interior printing on a larger trim size, which wasn't promised originally. We're also thrilled to report that while we originally planned on six or seven exclusive illustrations from Cortney Skinner that won't appear in the trade hardcover edition, he's been working day and night to deliver 17 (!) pieces of artwork instead, one for each story! Also, as we have mentioned before, the Lettered Edition will be housed in a custom-made box unlike anything we've ever produced for ANY book ever before. In fact, it's been a very long time since any publisher has attempted this style of case for a Stephen King book. We'll let you know how things work out!
A Game in the Sun by John Coyne:
This book has been sent to the printer and we expected finished copies in late 2018 or early 2019.

Halloween Carnival edited by Brian James Freeman (Cemetery Dance Exclusive Collectors Set #3):
This book has turned into a whopper at 536 oversized pages and proofreading has begun. With a book this size, we usually aim for 6 to 7 proofreaders taking a look to be sure it is clean.
Head Space and Other Uncomfortable Surroundings by James Cooper:
This book is almost ready for the printer, and the author has signed the signature sheets, so we're planning for a 2019 publication date.

In Sunlight and in Shadow edited by Lawrence Block:
This book is ready for the printer now, but we're still waiting to hear back about when Mr. Block can sign the signature sheets.
Interview With the Vampire by Anne Rice:
This book is completely proofread and we expect the rest of the materials to be ready by the end of the year, so we can publish this special edition in 2019.
Killer Crimes edited by Richard Chizmar and Brian James Freeman (Cemetery Dance Exclusive Collectors Set #3):
This book is just about finished with the proofreading stage and we expect to have it printer-ready in 2019.
Mr. Darkness by Douglas Clegg:
We're awaiting the next update from Douglas Clegg on this project. Please feel free to contact Mindy at order@cemeterydance.com if you no longer wish to wait.
Night Shift by Stephen King:
As you know, our schedule for the Stephen King special editions this year was completely thrown into chaos when one of our two big printers that can handle these "big" projects closed without warning back in June while they were working on SLEEPING BEAUTIES. Our other big printer was busy with their summer schedule of projects we had already started, but they've since cleared the press time needed for something on the magnitude of these Stephen King books and as of this week they've started work on SLEEPING BEAUTIES.
As soon as the printer is done with SLEEPING BEAUTIES later this year, we'll be sending them NIGHT SHIFT. We'll have a better idea of their schedule for printing and binding the book once we reach that point, and we will send additional email updates to keep you in the loop.

Since we had some unplanned additional production time, we decided to revisit an idea we had for the Table of Contents that wasn't possible when NIGHT SHIFT was first announced. Even though ALL THREE editions are completely sold out, and a lot of publishers would have called it a day, we're trying very hard to make these special editions in the Doubleday Years set truly special for our collectors, which is why we're very pleased to announce today that Stephen King has given us permission to include TWO BONUS STORIES that have never appeared in any edition of NIGHT SHIFT anywhere in the world: "The Glass Floor" and "Weeds."

Our designer will be adding this new "Bonus Section" to the book this week and we're thrilled to be including these terrific tales in our special edition of NIGHT SHIFT.

Sharp Objects by Gillian Flynn:
The book is in production and we will post more updates after it is officially announced for presale.
Shivers VIII edited by Richard Chizmar:
This book is deep in the proofreading phase and Richard will be signing the signature sheets soon, so we can publish in 2019.

Shocklines: Fresh Voices In Terror edited by Richard Chizmar & Matt Schwartz:
The signature sheets are with the very last author who needs to sign and then this one will be sent to the printer.
Shining in the Dark edited by Hans-Åke Lilja:
This book was published in March and the optional slipcases will be completed later this year.
Sleeping Beauties by Stephen King and Owen King:
We're very pleased to report the bluelines and dust jacket proofs have arrived from the printer and everything looks great. In addition, our slipcase and traycase makers have adjusted the case sizing a tiny bit based on the new dummy book and they are hard at work on the cases. We'll post another update in January when we have a little better idea of when the printer will be finished with their work.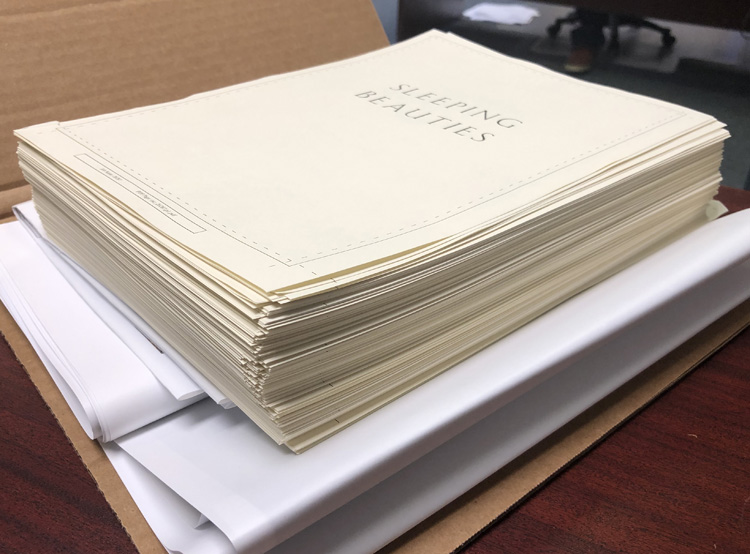 Strange Weather by Joe Hill:
All of the artwork has arrived and our designer is now hard at work on this one. We hope to begin proofreading by the end of the year, and to send the signature sheets to Joe and the artists by January, so we can publish this very special four volume set in 2019.
10/31: The Butcher's Story by Norman Partridge (Four Days of Halloween promotion, formally called Oktober Shadows):
Here is the latest update from the author: "Going through and revising chapter by chapter to change up some character stuff, and then I need to write the end. I figure it'll end up about 40 - 45 k. It's basically a seventies horror movie (that takes place in the early eighties) mashed up with 'something in the woods'--that's the Halloween train fun ride, scarecrows, etc., but really something bigger about the heart of the holiday itself. With the characters, it's about what you'd do/how you'd react if you knew you weren't going to make it out of a situation alive."
The Southern Reach Trilogy by Jeff VanderMeer:
We're continuing to work with Jeff VanderMeer on special features for this oversized Limited Edition hardcover, and we're very pleased to announce the cover artist has delivered the final file to our designer. The cover artist is Pablo Delcan and you can see the artwork on the product page. Be sure to view the "full wrap" view of the artwork because it continues onto the spine and the back!
This Dark Chest of Wonders: 40 Years of Stephen King's The Stand by Andy Burns:
This book is rolling at the printer and will be published in late 2018 or early 2019.
Those Who Wish Me Dead by Michael Koryta:
This book is rolling at the printer and will be published in late 2018 or early 2019.
Turn Down the Lights edited by Richard Chizmar -- Signed Special Edition:
This book will be sent to the printer as soon as possible.
Usher's Passing by Robert McCammon:
McCammon has signed the signature sheets, the interior artwork by Vincent Sammy is in the works, and proofreading is underway.
Waiting by Rick Hautala (Cemetery Dance Book Club #4):
The artwork is in the works, the signature sheets have been signed, and the book is completely proofread.
We're All In This Together by Owen King:
This title will be sent to the printer soon for a 2019 publication date.
The Zombie Who Cried Human by Brian James Freeman & Glenn Chadbourne:
This book is deep in production and will be published in 2019.
---
Other Books:
Cemetery Dance Select Series:
The launch titles for Cemetery Dance Select Series will be sent to the printer together in 2019, so they can be published and shipped together.
Cemetery Dance Magazine Hardcovers:
The Cemetery Dance magazine hardcovers have been in a holding pattern while we searched for a new printer who could produce this trim size with our preferred binding style (to keep them all looking the same), but we're pleased to report we've found a printer and they're printing some samples for us now. If all goes well, we'll have FIVE issues of the magazine out in hardcover in 2019.
---
Books From Other Publishers and related items:
SLIPCASE for Elevation by Stephen King:
Slipcases take approximately 12 to 14 weeks to produce after the book is published, so these should be ready in early 2019.
Sleeping Beauties Artwork Portfolio:
The signature sheets have been signed and the actual art prints are being printed via a fairly time consuming one-time printing process that should make them the most beautiful prints we've ever produced. The actual portfolio that holds the artwork will be produced in 2019 and will definitely rival the portfolio we made for IT.
Night Shift Artwork Portfolio:
This has started into production with the re-sizing of the artwork. Once that is done, we'll have the art prints produced and then work will begin on the folder.
---
Lettered Editions:
Traycases In Production:
The Damnation Game, The Twelve, Screamplays, The Miniaturist, The Forum, The Turtle Boy, Dueling Minds, Tyler's Third Act, Homestead, Scratch, Four Legs in the Morning, Turnaround, Undead, Stephen King Bibliography, Indian Summer, The Illustrated Stephen King Movie Trivia, Chills, Shivers VI, Shivers VII, Wailing and Gnashing of Teeth.
Please note: if a Lettered Edition you're looking for isn't listed here, that means the traycase maker hasn't started on the cases yet. We'll list the book above when the traycases start into production. Thank you for your patience!