Purity
Author:

Douglas Clegg

Artist:

Gail Cross

Page Count:

118

Pub. Date:

2000

ISBN:

1-881475-71-9

Status:

Out of Print
$0.00
---
---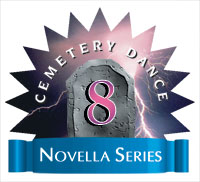 Purity (Cemetery Dance Novella Series #8)
by Douglas Clegg
About the Book:
In Purity, the darkest force is love.
Owen Crites has watched Jenna Montgomery flower into a beautiful young woman as they've practically grown up together through the summers — Owen is the gardener's son who will one day become groundskeeper of the Montgomery summer estate on Outerbridge Island.
Now, when they both reach adolescence, Owen begins to understand that Jenna is meant for a different life in adulthood than he is destined for — and he knows that he must somehow keep her on the Island until she no longer wants to leave.
Enter Jimmy McTeague, the young tennis star from Manhattan, heir to a sporting goods fortune, who has also come to spend the summer with the Montgomery's — and soon, a triangle of love, hate, and the darkest of human impulses emerges.
Douglas Clegg is the New York Times bestselling author of The Priest of Blood, Afterlife, Nightmare House, and The Hour Before Dark, among other novels. His recent short story collection, The Machinery of Night, won a Shocker Award; and his first collection, The Nightmare Chronicles, won both the Bram Stoker Award and the International Horror Guild Award.
Clegg was born in Virginia and raised in Hawaii, Connecticut and Virginia. He has been writing fiction since childhood, but only pursued publication of it beginning in his late twenties. He has primarily written supernatural fiction -- from horror to fantasy to psychological suspense with a paranormal edge. His fiction-writing career currently spans about 20 years of constant writing and publication. Additionally, he's been Director of Marketing for a publisher, editor for a bookstore's website, a marketing consultant for publishers, publicity firms, and booksellers -- and a wrangler for the cats, dogs and rabbits that have occupied his home. He has also co-authored the book Buzz Your Book with M.J. Rose. The two have also written a screenplay together. So far, these are Clegg's only collaborations.
In 1999, Douglas Clegg launched the internet's (and world's) first publisher-sponsored e-serial novel. Called Naomi, Clegg later went on to sell both hardcover and paperback rights. In 2000, his short novel Purity became one of the most-downloaded fiction ebooks on the internet -- reaching more than 100,000 readers in its first year on the internet. In 2001, Purity became the world's-first fiction to appear on a cell phone -- and was nicknamed an M-Book at the time (for Mobile).
Clegg lives with his partner, Raul, in New England, with a small menagerie of rescued animals.
Published in two states:
• Hardcover Limited Edition of 450 signed and numbered copies bound in full-cloth and Smyth sewn ($30)
• Traycased Hardcover Lettered Edition of 26 signed and lettered copies bound in leather and Smyth sewn with a satin ribbon page marker ($125)