Right to Life
Author:

Jack Ketchum

Artist:

Neal McPheeters

Page Count:

155

Pub. Date:

1998

ISBN:

1-881475-52-2

Status:

Out of Print
$0.00
---
---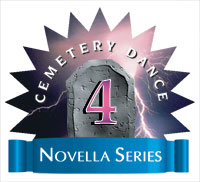 Right to Life (Cemetery Dance Novella Series #4)
by Jack Ketchum
About the Book:
When Sara Foster is kidnapped in front of an abortion clinic in broad daylight, taken off a busy Manhattan street by a pair of total strangers — Stephen and Katherine Teach — she is three months pregnant with her married lover's child.

Her abductors seem to know that. They also seem to know where she lives, where she teaches, where she was born, who her lover is — even where her father plays golf on the weekends. They tell her about a mysterious worldwide Organization devoted to white slavery and what happens to those slaves who try to run away. What happens to their families and those they love.

That's what Sara is now. Their slave.

They show her what happens if she tries to disobey.

She sleeps in a coffin-like box in the basement.

She's fed according to their whim. Abused according to their whim.

They involve her in a brutal murder.

That's just the beginning. Because Stephen and Katherine Teach have terrible plans for Sara.

And her baby.
Like his novels Joyride, Stranglehold, The Girl Next Door, and Cover, Right to Life is a descent into madness and human evil which is all the more harrowing because it's based on fact. Sara's ordeal really happened to somebody just like you and me and it's one that is vividly rendered. So consider yourself warned. This is disturbing, graphic writing.

Not for the timid.

Like life.
Jack Ketchum is the pseudonym for a former actor, singer, teacher, literary agent, lumber salesman, and soda jerk—a former flower child and baby boomer who figures that in 1956 Elvis, dinosaurs and horror probably saved his life. His first novel, Off Season, prompted the Village Voice to publicly scold its publisher in print for publishing violent pornography. He personally disagrees but is perfectly happy to let you decide for yourself. His short story "The Box" won a 1994 Bram Stoker Award from the HWA, his story "Gone" won again in 2000—and in 2003 he won Stokers for both best collection for Peaceable Kingdom and best long fiction for Closing Time. He has written eleven novels, the latest of which are Red, Ladies' Night, and The Lost. His stories are collected in The Exit At Toledo Blade Boulevard, Broken on the Wheel of Sex, and Peaceable Kingdom. His novella The Crossings was cited by Stephen King in his speech at the 2003 National Book Awards.
Published in two states:
• Hardcover Limited Edition of 450 signed and numbered copies bound in full-cloth and Smyth sewn ($30)
• Traycased Hardcover Lettered Edition of 26 signed and lettered copies bound in leather and Smyth sewn with a satin ribbon page marker ($125)