Roll Them Bones
Author:

David Niall Wilson

Artist:

Alan M. Clark

Page Count:

129

Pub. Date:

2003

ISBN:

1-58767-068-2

Status:

Out of Print
$0.00
---
---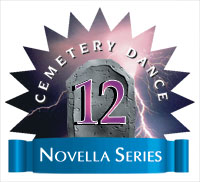 Roll Them Bones (Cemetery Dance Novella Series #12)
by David Niall Wilson
About the Book:
Roll Them Bones is the story of four adult friends bonded together by the horror of a long-ago childhood adventure.
It's Halloween night in Random, Illinois, and Ronnie Lambert, childhood bully, has called his companions home again. Frank, the bestselling writer, who has spent a lifetime rehashing the events of that long-ago nightmare in the pages of his books; Jason, who left town in search of money and fame; Lizzy, of the failed marriage and broken heart.
All have been summoned back to their hometown by Ronnie — to face the horror again.
Published in two states:
• Hardcover Limited Edition of 750 signed and numbered copies bound in full-cloth and Smyth sewn ($30)
• Traycased Hardcover Lettered Edition of 26 signed and lettered copies bound in leather and Smyth sewn with a satin ribbon page marker ($125)