Snow Shadows
Author:

Mick Garris

Artist:

Les Edwards & Lorry Stone

Page Count:

104

Pub. Date:

July 24, 2012

ISBN:

978-1-58767-317-7

Status:

Out of Print
$0.00
---
---
ABOUT
REVIEWS
AUTHOR
EDITIONS
Snow Shadows (Cemetery Dance Novella Series #24)
by Mick Garris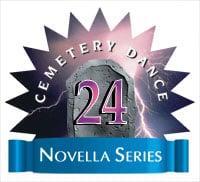 Cover Artwork by Les Edwards
Interior Artwork by Lorry Stone
About the Book:
Nicholas, a painter and teacher at the Ravensbrooke Youth Academy for the Arts, is having difficulties in his marriage. He also fears he's losing his artistic inspiration. A brief dalliance with a fellow teacher doesn't solve his problems—especially when Miss Featherstone takes the affair more seriously than he does.
Enter David Sutcliffe, a young and gifted student who imagines himself as the true object of Miss Featherstone's affections. His jealousy causes him to view Nicholas as a rival, and the boy becomes increasingly unhinged as he seeks to eliminate the competition.
Snow Shadows is an unusual and haunting story of love and obsession, with many shocking surprises along the way.
"Let Snow Shadows be a powerful reminder of what can happen when you lose control for even a few moments. Understand that divorce is the least of your worries … that there are things out there more frightening than your imagination and revenge can be a much stronger emotion than even love."
— Hellnotes, review by Wayne C. Rogers
Award-winning filmmaker Mick Garris has written or co-authored numerous feature films and teleplays, and he is Creator and Executive Producer of Showtime's Masters of Horror series, as well as Creator of the NBC series, Fear Itself. A Life in the Cinema, his first book, was a collection of short stories and a screenplay based on one of the included stories. His first novel, Development Hell, was published by Cemetery Dance in 2006. His screenplay and supporting material for Riding the Bullet were published by Lonely Road Books in 2010. He has also published short fiction in numerous books and magazines. Garris lives in Studio City, California, with his wife, Cynthia, an actress, musician, composer and muse.
Published in two states:
• Hardcover Limited Edition of 750 signed and numbered copies bound in full-cloth and Smyth sewn ($30)
• Traycased Hardcover Lettered Edition of 26 signed and lettered copies bound in leather and Smyth sewn with a satin ribbon page marker ($175)