Spree
Author:

Lucy Taylor

Artist:

Jill Bauman

Page Count:

124

Pub. Date:

1998

ISBN:

1-881475-38-7

Status:

Out of Print
$0.00
---
---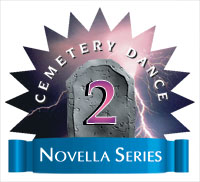 Spree (Cemetery Dance Novella Series #2)
by Lucy Taylor
About the Book:
More is never enough might be the slogan that Lonny Flynn has lived his life by. More booze, more women, more brawls. A young man already too familiar with the inside of correctional facilities, Lonny can't wait to finish up his prison term in Canon City, Colorado, go home, and kick some ass.

Lonny learns early on that walking out of Canon City is a helluva lot easier than escaping the prison of his own head, a place almost as richly inhabited with demons as the mind of his alcoholic, mentally-disturbed sexpot Mom, Delores. That he has inherited Delores' crazy streak is one of his biggest fears.

Fueled by alcohol, Lonny embarks upon a violence-ridden "trip down memory lane," paying visits to a number of the people who have marked his past. Along the way, he runs into old friend Tommy Gleason, the one man who might be able to show him a better way.

For even while in the middle of a drunken, murderous rampage, Lonny still retains the spiritual gift that he discovered as a boy, a path out of his wretched, sordid life that could lead him to salvation.

The search for vengeance and the hunger for the spiritual — these are the two drives competing for Lonny Flynn's soul during his mad quest across Colorado. The lives of several people will depend upon his choice.
Published in two states:
• Hardcover Limited Edition of 450 signed and numbered copies bound in full-cloth and Smyth sewn ($30)
• Traycased Hardcover Lettered Edition of 26 signed and lettered copies bound in leather and Smyth sewn with a satin ribbon page marker ($125