The Angels
Author:

Rio Youers

Artist:

Ray Dillon

Page Count:

144

Pub. Date:

November 1, 2015

ISBN:

978-1-58767-373-3

Status:

Out of Print
$0.00
---
---
ABOUT
REVIEWS
AUTHOR
EDITIONS
The Angels (Cemetery Dance Novella Series #26)
by Rio Youers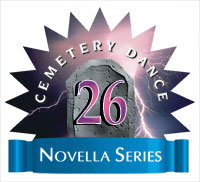 Cover and interior artwork by Ray Dillon
About the Book:
Life is good for 22-year-old Christopher Casey. He has the car, the beautiful girl, and he plays baseball for the Gracetown Angels.
His best friend, Hank Mosley, is the team superstar, but when he slumps at the beginning of the 1958 season, everything starts to unravel. Hank takes dark and drastic steps to reverse his fortune... but at what price?
How far would you go to make your dreams come true?
The Angels is a tale of passion, friendship, and dreams—an all-American baseball story set in a golden age, with tones both chilling and magical, and a certain darkness that resonates with the modern game.
"This knowing, eerie fable is a delight. Rio Youers throws a mean knuckleball."
— Owen King, author of Double Feature
Rio Youers is the British Fantasy Award-nominated author of End Times and Point Hollow. His short fiction has been published in many notable anthologies, and his novel, Westlake Soul, was nominated for Canada's prestigious Sunburst Award. Rio lives in southwestern Ontario with his wife, Emily, and their children, Lily and Charlie.
Published as a:
• Hardcover Limited Edition of 750 signed and numbered copies bound in full-cloth and Smyth sewn ($30)