The Cage
Author:

Brian Keene

Artist:

Alan M. Clark (cover) and Keith Minnion (interiors)

Page Count:

104

Pub. Date:

July 27, 2010

ISBN:

978-1-58767-187-6

Status:

Out of Print
$0.00
---
---
ABOUT
AUTHOR
EDITIONS
STATUS
ARTWORK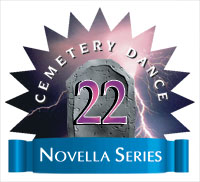 The Cage (Novella Series #22)
by Brian Keene
About the Book:
For the employees of Big Bill's Home Electronics, it's just the end of another workday — until a gunman bursts into the store and begins shooting. Now, with some of their co-workers dead, the hostages are being slaughtered one-by-one, and if they want to survive the night, they'll have to escape... The Cage.
Brian Keene is the author of over twenty books, including Darkness on the Edge of Town, Kill Whitey, Urban Gothic, Castaways, Dead Sea, Ghoul, Unhappy Endings and many more. He also writes comic books such as The Last Zombie and Dead of Night: Devil Slayer. His work has been translated into German, Spanish, Polish, French and Taiwanese. Several of his novels and stories have been optioned for film, one of which, The Ties That Bind, premiered on DVD in 2009 as a critically-acclaimed independent short. Keene's work has been praised in such diverse places as The New York Times, The History Channel, The Howard Stern Show, CNN.com, Publishers Weekly, Fangoria Magazine, and Rue Morgue Magazine.
Published in two states:
• Hardcover Limited Edition of 750 signed and numbered copies bound in full-cloth and Smyth sewn ($30)
• Traycased Hardcover Lettered Edition of 26 signed and lettered copies bound in leather and Smyth sewn with a satin ribbon page marker ($175)
Lettered Edition Status:
The deluxe Lettered Edition of this book is currently with our traycase manufacturer who will begin building the traycases as he catches up on the projects we've sent him. We will update this page as the Lettered Edition progresses through production. Thank you for your patience.
Sample of the Interior Artwork by Keith Minnion: