The Eyes of the Carp
Author:

TM Wright

Artist:

TM Wright

Page Count:

126

Pub. Date:

2005

ISBN:

1-58767-111-5

Status:

Out of Print
$0.00
---
---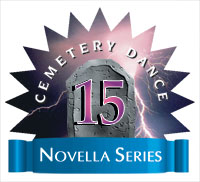 The Eyes of the Carp (Cemetery Dance Novella Series #15)
by T.M. Wright
About the Book:
Kevin writes, "Who kills but the strong? And who dies but the willing?"
Strange questions, certainly, but, to Kevin, their answers are obvious.
He is lyrical, intelligent, looks inward, forward, outward, backward, sees nightmares everywhere, makes these nightmares work, finds much in them about which he can congratulate himself — for instance, deaths that are slow and meaningful and, as he interprets them, deaths that bring welcome release. Not only to him. But to the others, as well.
And what about the others? What about their poor, short lives? What remains after they've passed? What about their stuff, their plans, the grudges they hold?
And who in the name of heaven, or hell, are ghastly William and fat Leonard? And why does the apparently absent and obviously naked Janet, with whom Kevin spent several years of wedded bliss, walk the hallways of the huge house at odd hours?
Published in two states:
• Hardcover Limited Edition of 750 signed and numbered copies bound in full-cloth and Smyth sewn ($30)
• Traycased Hardcover Lettered Edition of 26 signed and lettered copies bound in leather and Smyth sewn with a satin ribbon page marker ($125)