The Miniaturist
Author:

Jay Bonansinga

Artist:

Vincent Chong

Pub. Date:

April 26, 2011

ISBN:

978-1-58767-226-2

Status:

Out of Print
$0.00
---
---
ABOUT
REVIEWS
AUTHOR
EDITIONS
EXCERPT
ARTWORK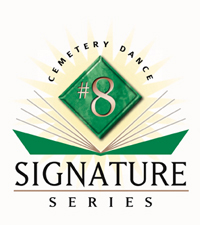 The Miniaturist (Signature Series #8)
by Jay Bonansinga
Featured Artist: Vincent Chong
Update for the Collectors:
The Lettered Edition sold out less than three hours after it was announced, and the Limited Edition is selling very quickly!
About the Book:
Her real name is Eva Strange, although most people know her by her obligatory city registration number: 0004511477. 'Sevens' to her friends. Of which she has very few.
With her trademark fedora, her shaded welder's eyeglasses, and her stoic loneliness, Eva is a distant cousin of Phillip Marlow and Sam Spade. She is also a special detective for a newly formed adjunct to the police force — the White Patrol — a secret intelligence unit charged with ferreting out black sorcery in a future world rotten with magic. And like Spade and Marlow before her, Eva is about to unlock a horrifying conspiracy — this one threatening the very fabric of space and time.
With echoes of Lovecraft, fantasy pulps, and neo-futuristic noir, The Miniaturist unfolds in feverish, dreamy bullet-time, an acid trip for lovers of all things dark and fantastic.
Jay Bonansinga is a national bestselling author, screenwriter, and filmmaker, whose directorial debut, Stash (based on a Cemetery Dance story), premiered in 2010 in fifty million households on On-Demand. As a novelist Jay has been called "one of the most imaginative writers of thrillers" by the Chicago Tribune. His 2005 novel, Frozen, is in development as a major motion picture starring Dennis Haysbert, and his latest book, Perfect Victim, is an alternate title for The Book of the Month Club. He has worked with George Romero, and has won major film festival awards, including a Gold Remi at the Houston International WorldFest, and a Best Comedy Feature at the Iowa City "Landlocked" Festival. His forthcoming non-fiction Civil War thriller, Pinkerton's War, is due out from Lyon's Press in late 2011, and he is currently hard at work on a trilogy of original zombie novels for St. Martins Press based on the universe of Robert Kirkman's brilliant graphic novel, The Walking Dead (the inspiration for the mega-hit AMC series of the same name). Find Jay on-line at www.JayBonansinga.com
Published in two states:
• Hardcover Limited Edition of 550 signed and numbered copies bound in full-cloth and Smyth sewn with illustrated endpapers ($35)
• Traycased Hardcover Lettered Edition of 26 signed and lettered copies bound in leather and Smyth sewn with illustrated endpapers and a satin ribbon page marker ($175)