The Shell Collector
Author:

Christopher Golden

Artist:

Glenn Chadbourne

Page Count:

116

Pub. Date:

March 2006

ISBN:

1-58767-114-X

Status:

Out of Print
$0.00
---
---
ABOUT
REVIEWS
AUTHOR
EDITIONS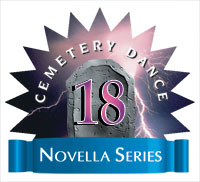 The Shell Collector (Cemetery Dance Novella Series #18)
by Christopher Golden
About the Book:
It's October in Gloucester, Massachusetts, where Richie Feehan was born and raised and has lived his whole life. He's a part-time lobsterman and full-time painter who sells his art at galleries in Rockport and Newburyport. Between the two jobs he makes enough money to get by, living in an in-law apartment in the family home owned by his brother Jim. Jim runs Feehan & Sons Funeral Home, a business started by their grandfather in 1921.
All in all, despite the tension with his brother, and despite the grumbling of his friends, whose business has suffered because of a lengthy red tide and a spectacularly bad overall fishing season, Richie enjoys his life very much. He's content, and believes that's pretty much all a man can ask from his life.
That is, until a horrible mystery begins to unfold in Gloucester.
Out lobstering, Richie sees something nightmarish in the surf one day, catches a bare glimpse of it beneath the surface. He doesn't dare speak of it for fear of what others might say-he doesn't want to become the town crazy. But he's having a hard time sleeping at night, and several days later, while out hauling in his traps for the winter, Richie finds one of them stuck on something. When he finally hauls it up, there's a corpse attached, a corpse that has been eaten at by sea creatures, including something large . . . the corpse of Greta Wagner, a woman who had been waked at Feehan & Sons two weeks earlier and buried a couple of days later.
Someone stole her corpse from the ground.
And her grave won't be the only one disturbed.
"Golden vividly evokes life in a small fishing town and builds the suspense to a terrifyingly vivid conclusion."
— Booklist
Christopher Golden is the award-winning, bestselling author of such novels as Wildwood Road, The Boys are Back in Town, The Ferryman, Strangewood, Of Saints and Shadows, and the Body of Evidence series of teen thrillers.
Working with actress/writer/director Amber Benson, he co-created and co-wrote Ghosts of Albion, an animated supernatural drama for BBC online, from which they created the book series of the same name.
With Thomas E. Sniegoski, he is the co-author of the dark fantasy series The Menagerie as well as the young readers fantasy series OutCast, which was recently acquired by Universal Pictures.
Golden and Sniegoski also wrote the graphic novel BPRD: Hollow Earth, a spinoff from the fan favorite comic book series Hellboy. Golden authored the original Hellboy novels, The Lost Army and The Bones of Giants, and edited two Hellboy short story anthologies.
Golden was born and raised in Massachusetts, where he still lives with his family. He graduated from Tufts University.
There are more than eight million copies of his books in print.
More projects with Cemetery Dance Publications are in the works.
Published in two states:
• Hardcover Limited Edition of 750 signed and numbered copies bound in full-cloth and Smyth sewn ($30)
• Traycased Hardcover Lettered Edition of 26 signed and lettered copies bound in leather and Smyth sewn with a satin ribbon page marker ($175)