The Winchester Horror
Author:

William F. Nolan

Artist:

Eric Powell

Page Count:

111

Pub. Date:

1998

ISBN:

1-881475-53-0

Status:

Out of Print
$0.00
---
---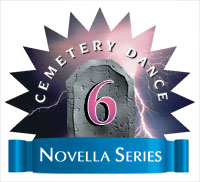 The Winchester Horror (Cemetery Dance Novella Series #6)
by William F. Nolan
About the Book:
Halloween night, 1997. Two young couples are participating in a candle-lit seance. They're giggling. Joking around. They're not believers — even though the seance is taking place in the infamous Winchester House. Even though the spirit they are trying to contact is the legendary Sarah Winchester...
But when the candle hisses out and the room plunges into darkness, their smiles soon turn to screams — and suddenly they believe...
It's one year later, and David Kincaid, well-known investigator of the paranormal, is hot on the trail of Lyn Lucero, the missing younger sister of a long-time friend in the police department. Lyn is a believer in all things paranormal — ghosts, monsters, spirits. And her belief has led her to some very dangerous places... including The Winchester House... where very strange things have been happening...
David Kincaid has seen a lot during his days as an investigator — both real and fake — but nothing has prepared him for the pure evil of The Winchester Horror...
Born in 1928 in Kansas City Missouri, William F. Nolan attended the Kansas City Art Institute and worked as an artist for Hallmark Cards. He moved to California in the late 1940s and studied at San Diego State College. In his mid-twenties, he began concentrating on writing rather than art and, in 1952, was introduced by fellow Midwest native (and established writer) Ray Bradbury to another young up-and-coming author, Charles Beaumont. Moving to the Los Angeles area in 1953, Nolan became (with Bradbury, Beaumont, and Richard Matheson) part of the "inner core" of the soon-to-be highly influential "Southern California School." By 1956 Nolan was a full-time writer. Since 1951 he has sold more than 1500 stories, articles, books, and other works. He has lectured widely, taught a creative writing seminar at Bowling Green State University, and appeared on countless panels and in discussions at conventions. Away from the keys, he has raced sports cars, acted in films and TV and worked as an illustrator and cartoonist.
With over eighty books to his credit, Nolan is a prolific, multi-genre master whose works have been selected for more than three hundred anthologies and textbooks, including many "Best of the Year" volumes. Among a host of honors, Nolan has been cited for excellence by the American Library Association, is twice winner of the Edgar Allan Poe Special Award, and was named an official "Living Legend" by the International Horror Guild in 2002. He has written extensively for films and television and has won Golden Medallion television awards at two European film festivals.
Nolan's best-selling global classic, Logan's Run (a million copies sold in the USA alone), spawned a hit MGM film and a CBS television series, and there are now two dozen active Logan websites around the world. Warner Bros. is currently in pre-production on a new, mega-budget major film version of Logan's Run.
Published in two states:
• Hardcover Limited Edition of 450 signed and numbered copies bound in full-cloth and Smyth sewn ($30)
• Traycased Hardcover Lettered Edition of 26 signed and lettered copies bound in leather and Smyth sewn with a satin ribbon page marker ($125)