Torn
Author:

Lee Thomas

Artist:

Vincent Chong

Page Count:

130

Pub. Date:

July 24, 2012

ISBN:

978-1-58767-265-1

Status:

Out of Print
$0.00
---
---
ABOUT
REVIEWS
AUTHOR
EDITIONS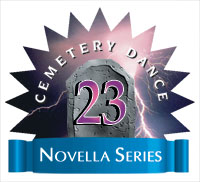 Torn (Cemetery Dance Novella Series #23)
by Lee Thomas

About the Book:
How do you go on when something like that happens to your child?
Bill Cranston is a family man, whose marriage is falling apart, eroding under his wife's constant bitterness and her retreat into alcohol and drugs. He is also the sheriff of Luther's Bend, a generally quiet town. When a little girl is abducted from a local park and carried into the woods, Bill leads a desperate search to find the child. But the little girl is only bait, and something vicious waits in the woods for her rescuers.
I am me. Can't you see? I am me and he is he. When he is he, I can't be me.
Douglas Sykes is insane. He sits in Bill Cranston's cell, speaking in rhymes and riddles. Though a stranger to Luther's Bend, Sykes seems to know a lot about Sheriff Cranston. Through his ramblings he reveals secrets about Bill, and secrets about himself. Sykes claims to be a mythological creature – a monster – and a handful of his victims have finally tracked him down, victims who now share Sykes' affliction.
A pack is descending on Luther's Bend. They are hunting Sykes, and they will not stop until everyone near him is left broken, bleeding, and torn.
"Torn is a magnificently written, high-octane, action-packed crime/survival horror/monster mash-up. It's also a sharp-toothed social commentary on how small-town America defines its demons; the writer's ingenious use of the werewolf metaphor to address murky sexual politics is an inspired move, and one that never feels preachy, agenda-driven or heavy-handed... Each chapter is accompanied by disquieting pictures from uber-talented genre artist Vincent Chong, which adds a surreal, otherworldly, fairytale aspect to the story. Highly recommended!"
— Alan Kelly, Rue-Morgue.com
Spoiler Warning In This Review:
"It's no spoiler to say that the latest entry in the publisher's Novella Series is about werewolves—you'll figure that out long before our protagonist, Sheriff Bill Cranston, does. When a little girl is reported abducted by a skinny, naked man, Cranston and his posse go searching the woods. However, the perpetrator they discover is a hulking beast with 'skin the color of a rotten steak.' It devours a man before fleeing. But, soon enough, they've got the human version of the werewolf, Douglas Sykes, behind bars, and this is where Thomas' hard-boiled first-person narrative is at its best, pitting the no-bullshit sheriff against the taunting fellow, who speaks in rhyming singsong: 'By the park; before dark?' Sykes warns of a pack of wolves about to rain hell on the station to get to him—and, boy, he isn't kidding. The latter third of this novella is a full-on guns-versus-monsters blastathon, with plenty of gore for those so inclined and just enough tortured insight for those looking for some poignancy, too. Chong, unsettling as always, provides the occasional plate."
— Booklist
Lee Thomas is the Bram Stoker Award and Lambda Literary Award-winning author of Stained, Parish Damned, The Dust of Wonderland, and In the Closet, Under the Bed. Recent releases include the critically acclaimed novel, The German.
Published in two states:
• Hardcover Limited Edition of 750 signed and numbered copies bound in full-cloth and Smyth sewn ($30)
• Traycased Hardcover Lettered Edition of 26 signed and lettered copies bound in leather and Smyth sewn with a satin ribbon page marker ($175)