Tyler's Third Act
Author:

Mick Garris

Artist:

William Stout

Pub. Date:

April 2013

ISBN:

978-1-58767-301-6

Status:

Out of Print
$0.00
---
---
ABOUT
REVIEWS
AUTHOR
EDITIONS
ARTWORK
"Mick Garris writes like a combination of Robert Bloch and James Ellroy, hardboiled noir with a ghastly little prick of the devil's own pitchfork."
— Stephen King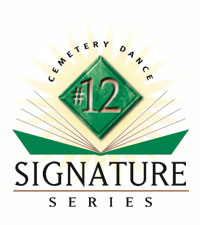 Tyler's Third Act (Cemetery Dance Signature Series #12)
by Mick Garris
Artwork by William Stout
About the Book:
How much would you pay to experience something truly disturbing?

Tyler Sparrow isn't too happy about recent changes in the movie and television industry. The continuing emphasis on unscripted reality entertainment is putting writers like himself out of work. As his career enters its "Third Act" (industry jargon for the final section of a film script), Tyler decides to take matters into his own hands: he'll create and star in his own web-based program, something sensational and disturbing that will grab the short-attention-span of today's fickle audiences.


Trouble is, if the program is successful, then audiences will be hungry for more... and it will become increasingly difficult to satisfy their appetites.

What happens when you mix the knowledge of a media-industry insider with a horror writer's eye for the bizarre? You get Tyler's Third Act, Mick Garris' satire on the twisted world of reality programs.
"A gut-check examination of today's shallow, media-driven culture and the entertainment industry, Tyler's Third Act is often hard to read (as it should be), as Garris provides an excellent, satirical allegory of a man willing to give EVERYTHING of himself to enthrall an ever-increasingly fickle audience. After reading this disturbing commentary on our ever-more reality-obsessed entertainment culture, it will be hard to look at 'reality television' the same way again."
— Shroud Magazine
Award-winning filmmaker Mick Garris has written or co-authored numerous feature films and teleplays, and he is Creator and Executive Producer of Showtime's Masters of Horror series, as well as Creator of the NBC series, Fear Itself. A Life in the Cinema, his first book, was a collection of short stories and a screenplay based on one of the included stories. His first novel, Development Hell, was published by Cemetery Dance in 2006. His screenplay and supporting material for Riding the Bullet were published by Lonely Road Books in 2010. He has also published short fiction in numerous books and magazines. Garris lives in Studio City, California, with his wife, Cynthia, an actress, musician, composer and muse.
Published in two states:
• Hardcover Limited Edition of 550 signed and numbered copies bound in full-cloth and Smyth sewn with illustrated endpapers ($35)
• Traycased Hardcover Lettered Edition of 26 signed and lettered copies bound in leather and Smyth sewn with illustrated endpapers and a satin ribbon page marker ($175)
These are just a few samples of the many drawings that appear in this book... DO NOT SCROLL DOWN UNLESS YOU ARE OKAY WITH "SPOILERS" BECAUSE SOME OF THESE GIVE AWAY PLOT POINTS!