The Zombie Who Cried Human
Author:

Brian James Freeman

Artist:

Glenn Chadbourne

Page Count:

64

Pub. Date:

April 2018

ISBN:

978-1-58767-652-9 (THC) and 978-1-58767-648-2 (LMTD)

Status:

Forthcoming
$0.00
---
---
The Zombie Who Cried Human
text by Brian James Freeman
illustrations by Glenn Chadbourne
About the Book:
Little Boy Zombie lives on a big farm just outside of ZomBeeTown with Mama Zombie, Papa Zombie, and Rex the Zombie Dog.
One day, while Mama Zombie and Papa Zombie are away, Boy Zombie is left in charge of the farm. But when he gets bored, he decides to play a prank on the citizens of ZomBeeTown. He yells toward town, "Humans here, humans here!" And everyone comes shambling to the farm to help.
When they discover they've been tricked, Boy Zombie is warned by his elders: "Don't cry 'humans' when there are no humans!"
But will he learn his lesson in time?
The Zombie Who Cried Human is the first book in the "Little Gruesome" series from Brian James Freeman and Glenn Chadbourne, who are blending classic fables with modern storytelling techniques to entertain children and adults of all ages.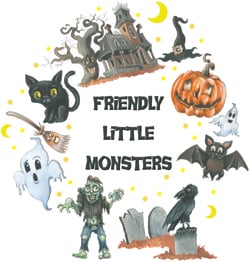 Published as a Trade Hardcover Edition:
• Printed on acid-free paper
• Bound in the popular "paper-on-boards" style with the full-color artwork printed on the binding
• Featuring full-color endpapers
• Smyth sewn to create a more durable binding
• Wrapped in a full-color dust jacket
• Retail price just $19
Published as a Signed & Slipcased Hardcover Limited Edition:
• Limited to just 350 signed and numbered copies
• Personally signed by the author and artist on a full-color signature page
• Printed on acid-free paper
• Bound in full-cloth with colored head and tail bands
• Featuring hot foil stamping on the front boards and spine
• Printed and bound with stylish endpapers
• Smyth sewn to create a more durable binding
• Wrapped in a different full-color dust jacket than the trade hardcover
• Limited ONE TIME printing of this special edition
• Retail price $65
Brian James Freeman is the author of The Painted Darkness, The Halloween Children (with Norman Prentiss), Darkness Whispers (with Richard Chizmar), Blue November Storms, More Than Midnight, Weak and Wounded, Dreamlike States, Lost and Lonely, The Illustrated Stephen King Movie Trivia Book (with Kevin Quigley and Hans-Åke Lilja), and The Illustrated Stephen King Trivia Book (with Bev Vincent). Visit him on the web at www.BrianJamesFreeman.com
Glenn Chadbourne has illustrated hundreds of books, magazines, and comics. He lives in Maine.