Blue November Storms
Author:

Brian Freeman

Artist:

Alan M. Clark

Page Count:

100

Pub. Date:

2005

ISBN:

1-58767-110-7

Status:

Out of Print
$0.00
---
---
ABOUT
REVIEWS
AUTHOR
EDITIONS
EXCERPT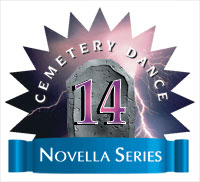 Blue November Storms (Cemetery Dance Novella Series #14)
by Brian Freeman
About the Book:
It's been twenty years since the friends known as the Lightning Five visited the Summer Place together. Twenty years spent living in the shadow of something they did in high school, an event that defined them forever in the minds of everyone in their small town.
Now they're returning for what should be a relaxing weekend of hunting and fishing, a chance to reminisce about old times and forget their troubles... but mother nature has other plans in mind.
There's a storm brewing.
A meteor shower is in the forecast, but it's going to be unlike any event in recorded history. This meteor shower is bringing change to the world, it's awakening the creatures of the forest from their quiet slumber... and before long, the Lightning Five are going to find themselves trapped on the roof of their cabin, with their numbers dwindling and supplies running low...
Trapped with no means of escape, the men will have to make some hard choices... like who gets to live and who has to die.
"It's the depth of the novella I find most compelling. Beneath frenetic action are the underlying themes of sacrifice and destiny, as the author experiments with varying degrees of pressure to force his characters to their breaking-point... The ending will leave you stunned and shocked, but mostly it will make you think. Too few books do that anymore."
—Michael McBride in the July 14, 2005 issue of Hellnotes
"The name of the work is Blue November Storms and it is quite simply the best nature run amok story that I have ever read... Brian's writing style is very reminiscent of King's as he creates very real, very true characters that we can all relate to. We have all known the guys that we share this story with, they are our friends, our family and when they hurt, we hurt and when they are scared, we are scared... I was totally transfixed by this story... I just could not put it down and I had to see how it all worked out."
—Dave Dreher, creature-corner.com
"Slowly, steadily, quietly, Brian Freeman has been sneaking up on the horror fiction genre... As with any Brian Freeman story, there is more to Blue November Storms than any mere rundown of the plot can describe. His fiction ripples with facets and provides the reader with much to contemplate after the pages are turned. They aren't simple stories and the reader always gets more than his or her money's worth. For the last few years, I've predicted that Brian will be one of the genre's biggest talents and Blue November Storms is further evidence of this certainty."
—Mark Sieber, Horror World
Brian James Freeman's short stories, essays, novellas, and novels have been published by Warner Books, Leisure, Cemetery Dance, Borderlands Press, Book-of-the-Month Club, and many others.
His short fiction has appeared in From the Borderlands, Borderlands 5, Shivers, Shivers II, Shivers III, Shivers IV, Shivers V, Shivers VI, Corpse Blossoms, and many other magazines and anthologies. His essays, columns, and interviews have appeared in The Stephen King Library Desk Calendar series from Book-of-the-Month Club, Jobs in Hell, Hellnotes, and Cemetery Dance.
Visit him on the web at www.BrianJamesFreeman.com
Published in two states:
• Hardcover Limited Edition of 750 signed and numbered copies bound in full-cloth and Smyth sewn ($30)
• Traycased Hardcover Lettered Edition of 26 signed and lettered copies bound in leather and Smyth sewn with a satin ribbon page marker ($125)
The five men lay on the roof of the hunting cabin and they stared at the full moon and they talked about everything, their breath turning to fog in the chilly night air.
The cabin known to them as The Summer Place sat at the top of a rocky hill, perfectly perched so the men could look down on Beacon Point Lake where the moon's shimmering reflection glazed across the water's dark surface.
These five friends had built the cabin when they were in high school, but now, twenty years and five lifetimes later, none of them could remember what had compelled them to start the project in the first place.
During their formative years they were called The Lightning Five because of their prowess on the football field, but the nickname had stuck with them for the rest of their lives for another reason. They had done something as teenagers that people still talked about—although no one else knew what had really happened on that humid August day when they were eighteen.
A certain amount of pressure grew from knowing the truth, and holding that pressure inside could make a person implode.
But tonight wasn't about pressure, it wasn't about myths.
The men hadn't yet spoken of what they had done twenty years earlier or why they had never let the complete story be known... or why a girl had died and yet they were still called heroes. Tonight was about escape and destiny.
And little did the men know, this was going to be their last trip together. Ever.
But before they could come to The Summer Place for the last time, one of them had to return from the dead.