Carrie: The Deluxe Special Edition by Stephen King
Author:

Stephen King

Artist:

Tomislav Tikulin

Page Count:

240

Pub. Date:

December 23, 2014

ISBN:

978-1-58767-479-2

Status:

Out of Print
$0.00
---
---
Carrie: The Deluxe Special Edition
A Collectible Limited ONE TIME PRINTING featuring an Introduction by Stephen King, an Afterword by Tabitha King, Color Paintings by Tomislav Tikulin, and Special Bonus Features!
We've signed an exclusive deal to produce a six volume set of special collectible editions of Stephen King's early books that were originally published by Doubleday back in the 1970s and early 1980s! These books are Carrie, 'Salem's Lot, The Shining, Night Shift, The Stand, and Pet Sematary, six classics of the horror genre and all-time Stephen King fan favorites!
These are the books that launched King's career and made him a household name, and our special editions will be beautiful and oversized volumes like we've published for From a Buick 8, It, Doctor Sleep, and many other King books over the years.
The first title in this special six volume set is Carrie, which will be published later this year and is available for preorder immediately. Other volumes in this series will follow approximately every six months after that and several acclaimed artists are already creating stunning art for these books. These special editions will feature exclusive bonus features such as introductions, afterwords, artwork, and even deleted material in some cases.
We expect extremely strong demand for these special editions of Stephen King's extraordinarily popular early books, and collectors who preorder Carrie directly from us will be the first collectors offered the opportunity to order the next volume before the general public.
"These were the ghosts which kept trying to come between me and what I was writing, kept insisting that I combine them, somehow, into a story that would tell what could have happened if there really was such a thing as telekinetic energy..."
— Stephen King, from the introduction
Carrie: The Deluxe Special Edition (Volume One in the "Doubleday Years" Collection)
by Stephen King
Featuring full-color wrap-around artwork by Tomislav Tikulin and full-color interior paintings printed on a high-quality glossy stock and tipped into the book!

About the Book:
Carrie was the odd one at school; the one whose reflexes were always off in games, whose clothes never really fit, who never got the point of a joke. And so she became the joke, the brunt of teenaged cruelties that puzzled her as much as they wounded her.
There was hardly any comfort in playing her private game, because like so many things in Carrie's life, it was sinful. Or so her mother said. Carrie could make things move—by concentrating on them, by willing them to move. Small things, like marbles, would start dancing. Or a candle would fall. A door would lock. This was her game, her power, her sin, firmly repressed like everything else about Carrie.
One act of kindness, as spontaneous as the vicious jokes of her classmates, offered Carrie a new look at herself the fateful night of her senior prom. But another act—of furious cruelty—forever changed things and turned her clandestine game into a weapon of horror and destruction.
She made a lighted candle fall, and she locked the doors...
Special Features For This Deluxe Special Edition:
• an introduction by Stephen King detailing why he wrote the book
• a lengthy afterword by Tabitha King discussing the book's unbridled exploration of adolescent terror, sexuality, and the unknown
• deluxe oversized design (7 inches X 10 inches) featuring two color interior printing as part of the page design
• printed on a heavy interior specialty paper stock that is much thicker than the paper in a normal trade edition
• custom-made slipcase for the Gift Edition, custom-made traycase for the Numbered Artist Edition, and custom-made three piece traycase for the Deluxe Lettered Artist Edition
• epic wrap-around full-color dust jacket artwork by Tomislav Tikulin
• a different full-color dust jacket for the Numbered Artist Edition painted by Tomislav Tikulin
• full-color interior paintings by Tomislav Tikulin
• interior artwork will be printed on a heavy glossy stock and tipped into the book
• signature sheet artwork for all three editions by Glenn Chadbourne
• high-quality endpapers and fine bindings
• full-page reproduction of the telegram Doubleday editor Bill Thompson sent Stephen King to announce the publisher was buying the book
• extremely collectible print run that is a tiny fraction of the TENS OF MILLIONS of copies of this novel you've seen in bookstores over the last 40 years!
Ordering Multiple Copies:
Please note that we cannot combine multiple orders, so if you want to save on shipping, please place one order.
US Shipping:
If you live in the US, we strongly recommend you select UPS as your shipping method and have your order shipped to a street address. Shipments via Media Mail are shipped at your own risk. For certain editions with low print runs, there may not be any replacement copies available if packages are lost via Media Mail.
Non-US Shipping:
We charge what the post office will charge us to ship this item via Priority Mail International, which is the only method available for this book due to the size and weight. Our online checkout system can estimate shipping for multiple copies, multiple editions, or other locations. Just add the editions you want to your cart and begin the checkout process. You will see your shipping estimate on the Payment & Shipping page. (You are under no obligation to finish checking out.) This method will result in a much quicker shipping estimate than calling or emailing our office and we cannot be responsible if you miss out on an edition you want while waiting for our office staff to reply.
Note About Contacting Our Office:
If you have any questions about this item, please contact our office via email. We expect to be extremely busy responding to customer inquiries and general media requests for the next week, so it may take longer than normal for us to reply to you, but email is still the faster way to get a response since we answer questions from the office and from home.
General Notes:
Unfortunately, savings certificates, store credit, special offers, or other discounts cannot be applied to this item, and this item cannot be used to qualify for any special offer or discount or deal. If you are a retailer, please note that standing orders do not apply for this item — you need to email our office for more information.
Published in three states:
• Slipcased Oversized Hardcover Gift Edition of only 3,000 copies printed in two colors on a specialty paper stock; bound with a fine binding, two color hot foil stamping, and embossed endpapers; and featuring a unique black-and-white limitation page with artwork by Glenn Chadbourne ($85)
• Traycased Oversized Hardcover Numbered Artist Edition signed by the artist and limited to only 750 hand-numbered copies printed in two colors on a specialty paper stock; bound with a different fine binding, two color hot foil stamping, and full color illustrated endpapers; a full-color signature sheet signed by the artists and featuring artwork by Glenn Chadbourne; and housed in a traycase ($225)
• Traycased Oversized Hardcover Artist Lettered Edition signed by the artist and limited to 52 hand-lettered copies printed in two colors on a specialty paper stock; bound in two different fine materials in a hand-made three piece binding featuring spine hubs, gilded page edges, two color hot foil stamping, and full color illustrated endpapers; featuring a different full-color signature sheet signed by the artists and featuring artwork by Glenn Chadbourne; and housed in a unique "three piece" traycase ($1000)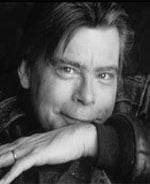 Stephen King has written more than forty novels and two hundred short stories. He is the recipient of the 2003 National Book Foundation Medal for Distinguished Contribution to American Letters and he also received the O. Henry Award for his story "The Man in the Black Suit." His previous Cemetery Dance Publications special editions include two volumes of The Secretary of Dreams, the deluxe Limited Editions of From a Buick 8, Full Dark, No Stars, It: The 25th Anniversary Special Limited Edition, Doctor Sleep, and the World's First Trade Editions of Blockade Billy and The Dark Man. King lives in Bangor, Maine, with his wife, novelist Tabitha King.
Tomislav Tikulin was born in Zagreb, Croatia. He has worked primarily with digital illustrations for book covers, as well as posters, DVD jackets, and production design illustrations. His focus is science fiction, fantasy and horror for various magazines and book publishers in Croatia, Europe, and the United States, including Fantasy & Science Fiction Magazine, Asimov's Science Fiction Magazine, Solaris Books, PS Publishing, Subterranean Press, Cemetery Dance Publications, Orson Scott Card's InterGalactic Medicine Show, Heyne Verlag, and Editions J'ai Lu. His artwork has graced the covers of many science fiction and fantasy books including Larry Niven's Ringworld Engineers, Arthur C. Clarke's Rendezvous With Rama, and Ray Bradbury's Dandelion Wine.
...
...