The Dark Man: An Illustrated Poem
Author:

Stephen King

Artist:

Glenn Chadbourne

Page Count:

88

Pub. Date:

July 30, 2013

ISBN:

978-1-58767-421-1 (Trade Hardcover); 978-1-58767-425-9 (Slipcased Trade Hardcover)

Status:

Out of Print
$0.00
---
---
ABOUT
REVIEWS
AUTHOR AND ARTIST BIO
"Randall Flagg came to me when I wrote a poem called 'The Dark Man' when I was a junior or senior in college. It came to me out of nowhere, this guy in cowboy boots who moved around on the roads, mostly hitchhiking at night, always wore jeans and a denim jacket. I wrote the poem in the college restaurant on the back of a placemat, but that guy never left my mind."
— Stephen King
The Dark Man: An Illustrated Poem
by Stephen King
NOTE FOR COLLECTORS:
The Limited and Lettered Editions SOLD OUT in less than two hours. A second printing of the trade hardcover was ordered the week before publication due to a surge in orders from retailers.

About the Book:
Stephen King first wrote about the Dark Man in college after he envisioned a faceless man in cowboy boots and jeans and a denim jacket forever walking the roads. Later this dark man would come to be known around the world as one of King's greatest villains, Randall Flagg, but at the time King only had simple questions on his mind: Where was this man going? What had he seen and done? What terrible things...?
i have ridden rails...

More than forty years after Stephen King first wrote his breathtaking poem "The Dark Man," Glenn Chadbourne set out to answer those questions in this World's First Edition hardcover featuring more than 70 full-page illustrations from the talented artist behind The Secretary of Dreams.
i have slept in glaring swamps...

This Cemetery Dance Publications hardcover is a true marriage of words and art, with Chadbourne pulling the images from King's imagination and illustrating them in magnificent detail. This incredible blending of King's words with Chadbourne's art creates a unique page turning experience you can return to again and again, always finding new details hidden in every illustration. You'll discover hidden layers and mysterious secrets for years to come.
i am a dark man...
So who is the Dark Man and why is he traveling the country? The answers are terrifying....
Key Details About Our World's First Edition:
• printed in a very limited and collectible print run — a tiny fraction of what a New York publisher normally prints for a new release
• heavily illustrated — a story told through the blending of King's words and the artwork
• the only trade hardcover edition planned at this time in any market
• beautifully designed with both the collector and general reader in mind
• the first 5,000 copies of World's First Edition, First Printing trade hardcover will be given the deluxe treatment: shrink-wrapped with a different dust jacket, a custom-made slipcase, and a collectible Glenn Chadbourne bookmark featuring a Dark Man drawing that doesn't appear in the book.
Published in four states:
• World's First Edition, First Printing Trade Hardcover ($25)
• World's First Edition, First Printing SLIPCASED trade hardcover featuring a different dust jacket and shrink-wrapped with a deluxe custom-made slipcase and a collectible Glenn Chadbourne bookmark featuring a Dark Man drawing that doesn't appear in the book ($49.95)
• Traycased Signed Limited Edition of only 500 copies printed in two colors on a specialty paper stock, bound in a fine material with two-color hot foil stamping, a different dust jacket, a color frontispiece, satin ribbon page marker, and embossed endpapers, signed by Stephen King and Glenn Chadbourne ($350)
• Signed Lettered Edition of only 52 copies printed in two colors on a specialty paper stock and bound in two different fine materials with gilded page edges, a different dust jacket, a different color frontispiece, a satin ribbon page marker, imported endpapers, a hand-drawn Dark Man illustration by Glenn Chadbourne in every copy, all protected in a custom deluxe traycase, signed by Stephen King and Glenn Chadbourne ($1750)
"While the publication of a new work by King is quite a coup by Cemetery Dance, I am more impressed with the work of Chadbourne. Each time I look over the pages, I find something new and enticing. This is a unique volume that ties the art to the words and gives a unique vision of two masters: King showing a glimpse of the beginnings of this unique talent that has entertained us for years; and, Chadbourne showing his mastery at understanding the written word and turning it into a not to be forgotten picture that enhances the experience. King, Chadbourne, and Cemetery Dance are a trio to contend with and this volume is a triumph in the trio of poetry, painting, and publishing. Don't miss this one of a kind work.
— Barry Hunter, The Baryon Review
"Purportedly scrawled by a college-age King on the back of a restaurant place mat, this glowering poem introduced a wandering character of ultimate evil, who would later mature into Randall Flagg of The Stand, The Eyes of the Dragon, and the Dark Tower series. Therefore, even though this is a curiosity, it's a significant one in the King mythos, and Chadbourne's black-and-white interpretation gives the spare text just the rotten juice it craves. The poem itself is the sort of metaphysical, apocalyptic piece you might expect from the late 1960s, but is nonetheless evocative. It begins, "i have stridden the fuming way / of sun-hammered tracks and / smashed cinders," as we follow the slow nighttime progress of a smudgy man traversing a moonlit America of busted merry-go-rounds, dilapidated trains, and agonized cemeteries. Wordless pages fill out the five-stanza poem, with Chadbourne's flat, snarled pencilwork hiding snakes, spiders, rats, and faces in every twisted tableau. It's all suitably ominous, and bewitched fans will be able to draw a direct line between this and The Gunslinger (1982)."
— Daniel Kraus, Booklist
"The poem itself is told from The Dark Man's point-of-view, and it's an effectively chilling piece of work. The world he describes is not unlike most King settings, a place where mundane sights like all-night filling stations and wheat fields exist beneath an ominous 'savage sickle moon,' and where sits 'a gutted columned house leeched with vines.' It's strong imagery, and it's easy to see how aspects of the character bled over into King's later work... But where The Dark Man really comes to life is in the marriage of King's text to Glenn Chadbourne's stark, brutal imagery. Thumbing through the book you can almost feel a cold October wind coming off the pages, and you can almost smell the desperation and fear permeating the desolate, broken landscape. Chadbourne's distinctive style has graced a number of King/Cemetery Dance projects, but never has it felt like a more perfect fit than it does here. The drawings are dense, packed with details that seem to shift and flow of their own accord so that each time you study the pages you see something else. It may not be for everybody, but a book like this is sure to please adventurous readers looking for new insight into one of King's most well-known creations. The Dark Man is a moody leap of faith by the creators and the publisher that pays off handsomely in the end."
— Blu Gilliand, The October Country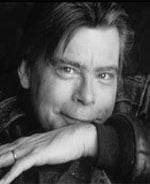 Stephen King has written more than forty novels and two hundred short stories. He is the recipient of the 2003 National Book Foundation Medal for Distinguished Contribution to American Letters and he also received the O. Henry Award for his story "The Man in the Black Suit." He has released numerous special editions with Cemetery Dance Publications including From a Buick 8, The Secretary of Dreams (Volume One), The Secretary of Dreams (Volume Two), It: The 25th Anniversary Special Limited Edition, Doctor Sleep, the World's First Edition of Blockade Billy, and Full Dark, No Stars. King lives in Bangor, Maine, with his wife, novelist Tabitha King.
Glenn Chadbourne's artwork has appeared in more than thirty books as well as dozens of magazines and comics. His trademark pen and ink drawings have accompanied the works of today's hottest genre authors. His other Stephen King Limited Editions with Cemetery Dance Publications include two volumes of The Secretary of Dreams. Glenn lives in Newcastle, Maine, with his wife Sheila.