From a Buick 8
Author:

Stephen King

Artist:

Bernie Wrightson

Page Count:

408

Pub. Date:

2002

ISBN:

1-58767-061-5

Status:

Out of Print
$0.00
---
---
ABOUT
REVIEWS
AUTHOR
EDITIONS
DELUXE DETAILS
From a Buick 8
by Stephen King
Illustrated by Bernie Wrightson
Book design by Bill Walker
Dust Jacket design by Gail Cross
About the Book:
For twenty years the officers in Pennsylvania State Police Barracks have kept a secret in SHED B. Inside waits a vintage Buick that lures the troopers to come and take a look.
Now young Ned Wilcox, son of Officer Curt Wilcox, has started hanging around the Barracks. One day he can't resist peeking through the windows... and it's finally time to share the secret.
So the veteran troopers sit Ned down on the smoking bench and tell him the story — every skin-curdling detail...
From a Buick 8 is classic Stephen King storytelling — a wondrous, thought-provoking, and chilling novel!
Illustrated by the legendary Bernie Wrightson (artist for The Stand and Cycle of the Werewolf), this Cemetery Dance special edition featured unique binding and endpapers, oversized design, and amazing color artwork.
"While the book's relative brevity and simplicity does lend comparison to earlier King, and King has relied on a nasty car before (Christine), the author's stylistic maturity manifests in his sophisticated handling of the round robin of narrators (both first and third-person), the sharp portrayal of police ways and mores and the novel's compelling subthemes (loyalty, generational bondings) and primary theme: that life is filled with Buick 8s, phenomena that blindside us and that we can never understand. This novel isn't major King, but it's nearly flawless and one terrific entertainment."
— Publishers Weekly
King's villain is one rotten car, a Buick Roadmaster penned up behind the state police barracks that seems to have been responsible for the disappearance of several people. King himself had a near-fatal run-in with an auto shortly after finishing the first draft, an eerie coincidence he addresses in an afterword.
— Library Journal
From A Buick 8 is vintage King....[He] knows how to jolt his readers.
— USA Today
About the Author: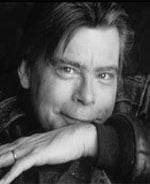 Stephen King has written more than forty novels and two hundred short stories. He is the recipient of the 2003 National Book Foundation Medal for Distinguished Contribution to American Letters and he also received the O. Henry Award for his story "The Man in the Black Suit." Among his most recent worldwide bestsellers are Under the Dome, Cell, Lisey's Story, and Duma Key. His other releases from Cemetery Dance Publications include two volumes of The Secretary of Dreams, the deluxe Limited Edition of From a Buick 8, the deluxe Limited Edition of Full Dark, No Stars, and the World's First Edition of Blockade Billy. King lives in Bangor, Maine, with his wife, novelist Tabitha King.
Published in three states:
• Slipcased Gift Edition of only 1,750 copies printed in two colors with two color hot foil stamping and illustrated endpapers ($75)
• Signed and Traycased Limited Edition of only 750 copies printed in two colors with two color hot foil stamping, illustrated endpapers, and a satin ribbon page marker ($250)
• Deluxe signed Lettered Edition of only 52 copies, each protected in a hand-made hinged box ($1500)
About the Deluxe Lettered Edition of From a Buick 8:
This edition was limited to only 52 signed and lettered copies. The book's design included these extra features:
• completely unique Lettered Edition with completely unique dustjacket
• leather black goat kidskin spine
• purple/black corinthian paper for covers
• French marbled endsheets
• silver gilding
• imprinted spine
• custom imprinted lightning bolts on cover
• purple page marker ribbon
The Lettered Edition also featured a handmade custom traycase:
• lined with purple baroque satin
• purple/black corinthian paper wrap
• silver curved hinge and button clasp
• black ribbon to support lid
• stamped embossing on box top