Nine more days 'til Halloween….time to sharpen those knives…uh, for pumpkin carving. What did you think I meant?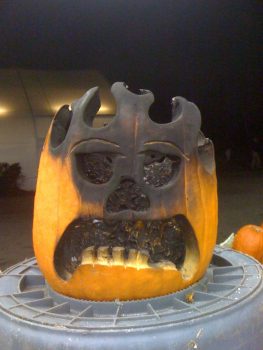 Although my artistic skills are practically nil, I try to push myself to be a little more creative with my jack o' lanterns each year. I've had some moderate successes and some spectacular failures. One constant each year is the place I go to for ideas and tips, and that's
Extreme Pumpkins
.
Extreme Pumpkins is the brainchild of Tom Nardone, who literally wrote the book (
three books, actually
) on pumpkin carving. He's not the first (or only) guy to incorporate things like dry ice and multiple pumpkins and fake blood in his creations, but he's one of the best. His site is always packed with great photos and lots of useful tips, and gets a guaranteed visit from me each year.
Check it out, and feel free to share your own carving creations with us on
Twitter
or
Facebook
this Halloween.

Blu Gilliand is the managing editor of Cemetery Dance Magazine and Cemetery Dance Online.