In 2018 Alma Katsu took the world of horror fiction by storm with The Hunger, her re-imagining of the tragic story of the Donner Party. The Hunger was named to NPR's list of 100 Best Horror Stories, and made the "Most Anticipated" lists of a number of media outlets, including The Guardian and io9.
Katsu is currently working on a new novel centered around another historic tragedy—the Titanic—as well as a spy novel and other projects. She was kind enough to take time out of her schedule to chat with Cemetery Dance. 
(Interview conducted by Sadie "Mother Horror" Hartmann)
CEMETERY DANCE: Alma, thank you so much for agreeing to talk to me on behalf of Cemetery Dance and their spotlight on Women in Horror! As many of us in the industry know, February is Women in Horror Month which surprisingly (or maybe not so surprisingly) sparks some debate/controversy. What are your thoughts on "Women in Horror Month" and, perhaps as a sub-question, do you have anything to say about female fans of horror?
ALMA KATSU: I'm happy (relieved, grateful) that there is acknowledgement that women have a place in horror. It would be disingenuous for anyone to deny that horror hasn't always been welcoming to women, I think, or that women are "supposed" to be drawn to horror. WiHM makes you feel like you have a place at the table. That your views and experiences are valid, too.
The world is often a horrible place and women know this. We face many of the same horrors that men do, but we also face some that many men will probably never know. I say this based on my experience as one of the analysts in the intelligence community who followed the world's humanitarian crises, which included genocides and mass atrocities. Pretty grim stuff. I've seen women face the worst nightmares you can imagine—I won't go into it here—and have seen that sometimes, often, the way they respond to these horrors is different from men. I wouldn't go so far as to say there's a gender difference, but I have come to appreciate the perspective women bring. For instance, did you know that the most successful reconciliation efforts post-genocide are the ones run by women? Again, not saying men don't have unique perspectives, too—I'm just happy there's room for a multitude of perspectives.
Your book The Hunger has gotten great reviews, lots of press and has recently shown up on the preliminary ballot for the 2018 Bram Stoker Awards! Congratulations! I read The Hunger last year and enjoyed it very much. You must be so proud of your book baby. How have you processed all of this publicity and accolades?
Thank you very much. It's been quite a surprise. All those months writing, rewriting, sweating out the days until release, you have no idea how a book is going to be received, if it's going to find its audience. I still haven't processed this great good luck. It feels unreal.
What was a favorite highlight or experience during the release of The Hunger?
Learning that Stephen King had tweeted about the book. You never think something like that is going to happen to you. I was getting ready to do an event at Poisoned Pen in Scottsdale and I learned literally minutes before I was going on stage with Brad Meltzer (another crazy lucky break). I don't remember how I found my way to the bookstore, I was in such a daze.
What have you been working on lately and are there any Alma Katsu books slated for release soon?
Not super soon, I'm afraid. The next book is The Deep, which is a ghost story set on the Titanic and its sister ship, Britannic, which also sank. The idea for the book came when I found out there was one woman who survived both sinkings. Like The Hunger, it has lots and lots of history, and also draws on social themes with current relevance (in this case, women's rights and class disparity—it was the Gilded Age, after all). I've always thought ghost stories are the hardest to pull off, so I am looking forward to learning what readers think. It's not scheduled to come out until spring 2020.
I also sold my first spy novel—after 30+ years in the business, you'd think this would've happened sooner but better late than never. It's tentatively titled Red Widow and may come out very early in 2021.
Lastly, I'm making my debut in comics with a serialized graphic novel for Porsche! There's a funny story behind how that happened, but I'll save it for another day. Think Atomic Blonde with lots and lots of Porsches. I'm partnering with the extremely talented Victor Santos, creator of the Polar series (a live-action movie based on his books was recently released on Netflix). We don't have a title for it yet. The first installment will be coming out in a few months.
Alma, what were some of your favorite horror books from 2018?
With all the writing, I'm woefully behind on reading this year. Nor can I say that I read a lot within any genre, let alone horror. I read Victor Lavalle's The Changeling, which I enjoyed very much, though I don't know that I'd call it horror; more like modern fairy tale. Unbury Carol by Josh Malerman was a favorite, too; I was (still am) hoping for a weird Western wave with The Hunger… Back to the question of what is horror? I enjoyed Tana French's The Witch Elm and that makes me think of C.J. Tudor's The Hiding Place, with its fabulous voice and twisty plot. I devoured the King's The Outsider, both in print and audio, which might be a first for me.
What women in horror do you look up to?
Anne Rice, first of all. She changed popular culture on so many fronts and especially how we think about "monsters"—how many writers are able to achieve that? I also admire authors who are able to transcend narrative norms, so authors like Carmen Maria Machado and Kelly Link, whose writing often has horrific elements (in addition to magical realism, fantasy, and science fiction). Speaking of unusual but successful ghost stories: Audrey Niffenegger (Her Fearful Symmetry) and Sarah Waters (The Little Stranger). Charlaine Harris because she might also be one of the nicest, most generous people on the planet. Shirley Jackson, of course… and I'm sure I'm forgetting someone, because you always do in moments like this.
Oh yes: Bride of Frankenstein, because what woman can't relate? You wake up one day and look around and think, I didn't ask for this.
Is there anything about 2019 that you're particularly looking forward to? Could be books, movies, whatever you have on your calendar that we should know about so we can look forward to them too!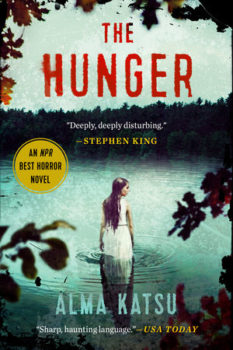 Of the things I'm aware of (which is a tiny, tiny universe): The Invited by Jennifer McMahon (April) because GHOST STORY; and Josh Malerman's Inspection, which I got to read early and man, as a piece of writing it's like a flying trapeze act. Who else can write like that?
In the style of Kill Creek by Scott Thomas, if you had to spend the night in a haunted house with three other horror authors who are alive and working today, who would you choose?
I'm going to take the easy way out and pick three amazing folks: Christopher Golden, whom I got to meet in person recently and, in addition to being a total sweetheart (not horrible in any way), is so generous with writerly advice; Josh Malerman, because I admire his storytelling virtuosity; and Jennifer McMahon, great storyteller, yes, but also because—as we found out when we interviewed each other for Entertainment Weekly—we have many interests in common. We're both Yankees! We like cute little travel trailers! Tiny notebooks!
If The Hunger was made into a movie or a TV series on NETFLIX, do you have any favorite actors that you would love to see take on your characters?
I'm terrible at this because I'm stuck in my own era of movie stars, who are now all too old to play those characters. Like Vivien Leigh, with those amazing brows, would make a great Tamsen Donner—who is the 21st century equivalent of Vivien Leigh? I will say that I pictured Jeffrey Jones (Rev. Steenwyck in Sleepy Hollow, in case anyone's memory needs jogging) as George Donner the entire time I was writing the book.
Lastly, if you were an ice cream flavor, what flavor would you be and why?? (I always ask people that question. The answers are always really insightful.)
I would be some poison flavor, maybe arsenic (which smells like bitter almonds), because then they would not be inclined to eat me. Or suffer the consequences, if they did.