Antics on the Web: Dick Cavett's Horror Roundtable
by Robert Brouhard
An interview with Stephen King is always a must read, an interview with George A. Romero can be a ton of fun, an Ira Levin interview is always interesting, and a Peter Straub interview is always eye-opening. Now, an interview with ALL FOUR at the same time… scratch that… a full-on hour-long discussion between the four of them, WOW. Mind-blowing. As soon as I heard that Shout Factory TV was hosting a two-part Dick Cavett discussion with these four amazing people, I started clicking my way to see it.
The two-part two-night series started October 16, 1980, and there's Dick Cavett speaking to the camera: "I hate to think how many people my guests have killed…" Best. Opening. Line. Ever. Smoke is wafting past him as he talks about horror for a bit. The camera eventually shows the four towers of horror that are sitting with him. Stephen King. George A. Romero. Ira Levin. Peter Straub. At this point I noticed I wasn't breathing and took a sharp inhale. Romero and King are smoking nonchalantly, and everyone is speaking with a total lack of nervousness… except maybe Straub (and he doesn't smoke until the credits of the first half… Levin waits to light up until the end of the second half…).
The first thing that hit me watching this was that this was Peter Straub and Stephen King before they wrote The Talisman…four years before. This discussion and meeting may have been the coming together/seeding of that collaboration.
King and Romero's Creepshow was released at Cannes Film Festival in May 1982, but they actually talk about the project during this Interview.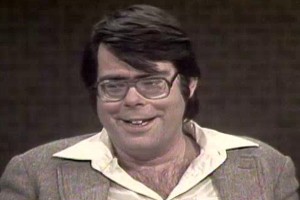 Highlights: How humor and fear mix was a favorite part of this discussion. Another part was what can be effective on-screen but not on paper. Hearing each master's favorite scary author was also a treat. BUT, the origins of the ideas behind The Stepford Wives and The Shining, Night of the Living Dead, all said straight from the legends' mouths – hoo boy! Pure gold!
If you let your eyes wander during the interview, you'll see the end-of-'70s fashion that would soon die on King and Romero. You won't get used to Stephen King's machismo-fueled hairy chest or the collars. Nope.
There are more clips called "The Dick Cavett Show: Horror Highlights" on Shout Factory TV from the 1970s through the mid-1990s, including interviews with Alfred Hitchcock, Vincent Price, and Janet Leigh.
Here's some links for you:
The Dick Cavett Show: Horror Highlights
King, Romero, Levin, Straub Interview Part One
King, Romero, Levin, Straub Interview Part Two
"Antics on the Web" is a Cemetery Dance Online exclusive series of articles about horror that can be found on the Internet. Robert Brouhard is a freelance writer and an active member of the Horror Writers Association.