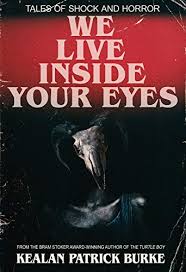 We Live Inside Your Eyes by Kealan Patrick Burke
Elderlemon Press (April 2019)
227 pages; $9.99 paperback; $4.99 e-book
Reviewed by Blu Gilliand
I've long considered Kealan Patrick Burke to be something of a throwback. I imagine him as one of those long-ago pulp writers who used to churn out stories by the fistful, back when there were magazine racks brimming over with periodicals hungry for tales. Like them, Burke never seems to run out of ideas, always finding fresh approaches to the tropes of his chosen genre. To see what I mean, look no further than his new collection We Live Inside Your Eyes, a batch of scary stories that run the gamut from quietly unsettling to downright terrifying.
Inside you'll find stories like "Sanctuary," the tale of a nightmarish reality that may, in fact, be the product of a child's extraordinarily vivid imagination. The story is a showcase for Burke's ability to use rich language to tell a story without getting bogged down in it. You may want to stop and revel in the imagery, but the story keeps dragging you forward.
"The Mannequin Challenge" recalls one of the stranger Internet crazes from a couple of years ago, which Burke manipulates for his own twisted purposes. An office outsider attends a Halloween party with his co-workers, only to get the unexpected opportunity to act on some of his worst impulses. It's disturbing to see how quickly the man's actions escalate, but even more disturbing to contemplate how people we know might react in the same situation.
"The House on Abigail Lane" is a proud addition to the proud tradition of haunted house stories, and that's all I'm going to say because I feel like even that's too much.
I've always enjoyed collections that use wraparound segments to connect the stories, so I was delighted to find Burke playing with that idea in We Live Inside Your Eyes. This one doesn't really add a lot to the overall reading experience, but it's a nice atmospheric touch.
I can't end the review without mentioning that one part of this collection brought me to tears. In the "Story Notes" section, Burke talks about the millions of words of abandoned projects currently resting on his hard drive, including, he writes, "…over fifty pages of a Kin sequel." I mean, damn, Kealan. You could have left that part out….
Kealan Patrick Burke is one of our most underappreciated talents, a guy who's been poised on the edge of mainstream success for virtually his entire career. He's going to get there one day, and nobody's going to cheer harder than me when it happens. (I mean, I guess he might cheer a little harder, but I'll be a close second.) I'm thankful that he continues sharing his imagination and immense talent with us, and look forward to the day when even more people share in the joy of a new Burke release. In the meantime, grab yourself a copy of We Live Inside Your Eyes,  a collection that readers will be discovering and enjoying for years to come.