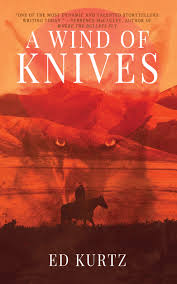 A Wind of Knives by Ed Kurtz
Independently Published (December 2019)
140 pages; $7.99 paperback; $2.99 e-book
Reviewed by Kevin Lucia
A Wind of Knives by Ed Kurtz is a grim beauty to behold. One part realistic western reminiscent of the late Ed Gorman's work; one part rumination on the nature of love and the desperate ties which bind us together; all parts sad, brutal, and tragic. This isn't a Saturday afternoon spaghetti western in which the good guys wear white and the bad guys  wear black, with blazing six guns and stalwart heroes riding off into the sunset. It's a melancholic story of a man fueled by revenge and the deep, aching pain that not only comes from loss, but also from the deepest kinds of betrayal.
After rancher Daniel Hayes finds his ranch hand and lover mutilated and hung from a tree outside his home, he embarks on a bitter trail to avenge his lover's death. What he encounters is not a black-and-white path to revenge, but a twisting, turbulent tide of gray, filled with betrayal, back-stabbing, and the simple, mundane cruelties of hard frontier life. Along the way he encounters kindness and hatred in equal measures, and by the time he reaches his path's end, he's left wondering whether any of it meant anything at all. Kurtz's tight, precise prose relentlessly drives forward this tale, and any reader will be compelled to finish this story in one or two sittings.
Highly recommended.