Halloween Is Coming Special Offer!
Spend $75 On An Order This Weekend,
Get $125 FREE to Spend Next Week!
Hi Folks!
We're pleased to announce the return of a "fan favorite" special offer that'll give our collectors a chance to save big while building their collections at heavily discounted rates!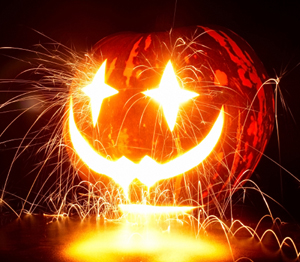 If you spend just $75 or more in a single order by the end of the day on SUNDAY, October 19, we'll send you a FREE $125 Off Coupon Code next week that you can use toward the purchase of almost every item in our online store: our books, other publisher's books, in-stock titles, forthcoming titles, and more! The only item that is excluded are Gift Certificates.
You can order anything you want to qualify for this deal as long as your total BEFORE shipping and after redeeming coupons/Gift Certificates is at least $75!
That's like spending just $75 to get your choice of $200 worth of collectible books, magazines — whatever you want! This is a hard deal to beat!
Everything on the site qualifies including books (in-stock or preorders), eBooks, magazines, comics, subscriptions, artwork, slipcases, other items, or dust jackets!
In-stock books and preorders from other publishers are great, too!
Qualifying for YOUR $125 OFF COUPON is simple:
* click "add to basket" for the "Spend $75 On An Order Now, Get $125 To Spend On An Order Next Week!" item listed on the "free item" product page
* then add at least $75 worth of products to your cart — any combination of items is fine!
* checkout like normal and we'll do the rest — after processing the orders, we'll send you a FREE $125 OFF COUPON CODE via email next week if you spend $75 or more today BEFORE shipping and after redeeming coupons/Gift Certificates.
* The FREE $125 OFF COUPON CODE must be spent on a single purchase within seven days of being issued. It cannot be divided between purchases or saved for future use. The coupon cannot be used to purchase Gift Certificates. It cannot be applied to past orders retroactively. Anyone who cancels an order this week or next week and uses the coupon to reorder those items will be charged the full amount for their re-order, no exceptions.
* There cannot be any refunds or returns for your order placed this week once you have redeemed your $125 coupon.
We can only allow 50 people to redeem this offer, and once those 50 slots are gone, we'll pull this promotion from the website, so don't wait to place your order!