More Brand New eBay Auctions Started Today For Less Than a Buck:
Stephen King, Thomas Ligotti, Robert R. McCammon, Clive Barker, Jack Ketchum, Ramsey Campbell, and more!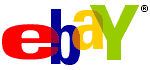 We've listed another round of brand new auctions today and there are some great items in the mix! We've started ALL of these auctions at less than $1.00 each, so definitely go and bid on anything that looks interesting because who knows what you might win!
Make sure you visit Our eBay Listings for the complete listings and details!
As always, we cannot accept coupons, Gift Certificates, Savings Certificates, etc, on items purchased via eBay.